Israel Chemicals Won't Sway Government on Taxes, Official Says
The Israeli government isn't going to back down on plans to raise Israel Chemicals Ltd.'s tax bill, a finance ministry official said, even after the company threatened to cancel planned domestic investments totaling about $1.3 billion.
A proposed progressive tax peaking at 42 percent on all quarried materials is included in legislation accompanying the 2015 draft budget that parliament approved this month, in the first of three votes. ICL wants the proposal revised to recalculate the profits subject to the tax, something the official, speaking on condition of anonymity to discuss confidential matters, said wasn't in the works.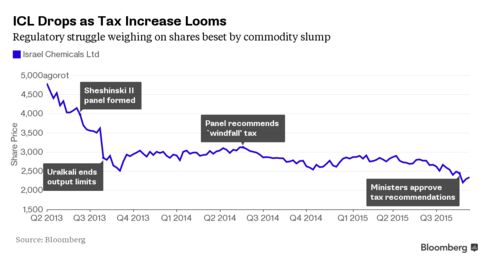 Israel Chemicals, which mines minerals from the Dead Sea to make fertilizer and potash, is already shifting investments outside the country in anticipation of the new tax, which, if approved, would take effect in January 2017.
Israel Chemicals wants the state to set out a comprehensive policy governing the company's domestic operations, according to a person familiar with the issue who spoke on condition of anonymity because the matter is private. This would include amending how its assets are valued; spelling out the terms for renewing its license when it ends in 2030; and offering tax breaks for its research and development and non-mining activities. In return, the company has offered to invest about $1.3 billion in new factories, which would boost employment in the country's struggling southern region.
Major Exporter
Israel Chemicals is the the largest employer in Israel's southern Negev area and employs, directly and indirectly, about 1 percent of Israel's total workforce, according to company data presented to the government-appointed panel that proposed the new taxes. It is also one of the country's biggest exporters.
While the government sees the new levy adding 500 million shekels ($128 million) a year to public coffers, Israel Chemical's Chief Executive Officer Stefan Borgas has said it's a short-sighted view, because his company would have to cut investment and staffing, leading to a weaker long-term economy.
The company in May reached an agreement with employees on job cuts, ending a three-month strike. Without the strike, Israel's second-quarter growth, which was 0.3 percent, would have been 1.2 percent, Leader Capital Markets Ltd. said in August.
ICL's shares have been the worst performers on Israel's benchmark TA-25 index so far this year, dropping 17 percent, compared with an 8.8 percent rise in the gauge at Thursday's close in Tel Aviv. Since June 14, the share has been trading below its 50-, 100- and 200-day moving averages, an indicator that shows the average value of a security's price over a period of time.
The proposed tax was recommended after the previous government appointed a panel to increase the state's take from natural resources.
Before it's here, it's on the Bloomberg Terminal.
LEARN MORE