Israel's 300 Days of Sun No Help as Offshore Gas Eclipses Solar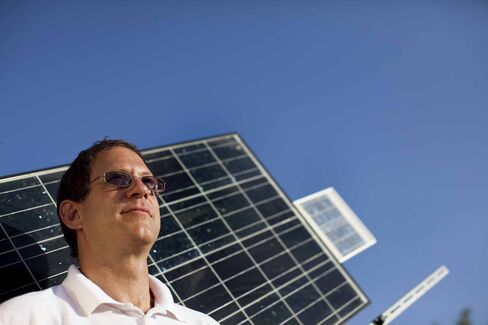 Pending regulations could rekindle interest in greener energy

"We think they'll turn their focus to renewables again"
After struggling to grow citrus trees on a stretch of parched desert, Israel's Kibbutz Ketura instead devoted the land to harvesting the country's most abundant resource: sunshine. Yet as the kibbutzniks seek to expand their solar installations, the government is proving almost as formidable an obstacle as the scorched soil ever was.
"Israel has the technology and plenty of sunshine, but the government is completely ignoring the renewables industry," said Yosef Abramowitz, a solar energy advocate who helped found Arava Power Co., the developer of the Ketura field.
With more than 300 days of sunshine per year and a world-class tech sector, Israel should be a hotbed of solar, but it has lagged behind places such as cloudy Germany and the rainy Netherlands. That's because in recent years, geologists have discovered huge gas fields just off Israel's coast, making the country a potential energy exporter and allowing its power plants to burn cheaper and cleaner gas instead of coal -- and shifting the government's focus away from renewables.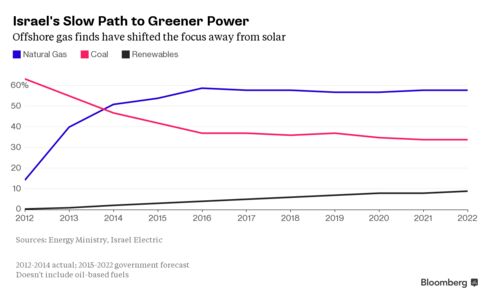 Israel says it gets less than 2 percent of its electricity from renewable sources, versus 22 percent in the European Union, 8 percent in China and 7 percent in the U.S., according to the International Energy Agency. The country's solar industry peaked at about 130 companies in 2010 as investors piled in, but today there are just 60, the Green Energy Association of Israel says.
Gas has dominated Israel's energy agenda since the discovery in 2009 of a field called Tamar. As politicians and regulators have squabbled over taxes for energy producers and how much gas can be exported, recent governments have delayed promises to approve new solar installations.
Gas Exports
While the government handed out permits for plants with 818 megawatts of capacity in 2009-2011, since then no new licenses have been issued for installations that connect to the national grid, according to the Green Energy Association. Developers have applied for licenses for about 2 gigawatts in projects in recent years, the group says.
"You go to the energy ministry these days and try to speak to them about solar and they'll say, 'Don't talk to me about renewables, we've got gas,"' said Eitan Parnass, head of the green energy trade group.
Yuval Zohar, who oversees renewables at the energy ministry, says Israel may soon issue permits for 340 megawatts of photovoltaic installations that got preliminary approval last year, but which were delayed after the government collapsed in December.
Zohar insists Israel is on track to achieve its target of 10 percent renewable energy by 2020. "We're moving forward in order to achieve that goal," he said.
Amit Mor, chief executive officer of Eco Energy Ltd., a consultancy near Tel Aviv, says Israel will be lucky to get to half that level. Electricity prices have dropped 10 percent due to the shift to gas, he says, and if they keep falling, "the economic viability of solar is going to be marginal."
Industry executives predict that as the government wraps up a plan for developing Israel's biggest gas field, officials will finally put solar back on the agenda -- though the discovery in August of new gas reserves in Egypt may further delay that as the ministry analyzes their effect on exports.
"Regulators and politicians understand the need for renewables," said Yaron Szilas, who heads the energy business of Shikun & Binui Ltd., Israel's largest construction company, which in July secured financing for a $1 billion, 110 megawatt solar-thermal plant the Negev desert. As the gas industry matures, "we think they'll turn their focus to renewables again."
Captain Sunshine
The Negev is a sparsely populated expanse of sand, scrub and rock, sprinkled with army bases and impoverished Bedouin villages. At its southernmost tip, where Israel narrows to a sliver of land between Jordan and Egypt, a few kibbutzim have sought to remake the economy by investing in solar power.
At Ketura, founded by American Jews in 1973, the movement was spearheaded by Abramowitz, nicknamed Captain Sunshine. In 2006, Abramowitz and his wife, rabbi Susan Silverman (a sister of comedian Sara Silverman), were spending a sabbatical at the kibbutz. Surprised that Ketura got none of its energy from the sun, Abramowitz sought money from U.S. investors to form Arava.
Working with Germany's Siemens AG, Arava finished Israel's first field, Ketura Sun, in 2011. Since then, Arava has built more than 100 megawatts of capacity, but it's awaiting approval on another 200 megawatts.
Without new licenses, "we have ground to a halt," says CEO Jon Cohen. "The industry is stuck waiting."
For more, read this QuickTake: Solar Energy
Before it's here, it's on the Bloomberg Terminal.
LEARN MORE