Iran Said to Cut Pricing for All October Crude to Asia
Light crude at narrowest premium to Saudi oil since 2012

Iran seeking to win market share from Saudis after sanctions
Iran cut pricing for all its oil grades for sale to Asia next month, according to two people with knowledge of the decision, trimming the premium on its main Light crude over the comparable Saudi blend to the narrowest since the end of 2012.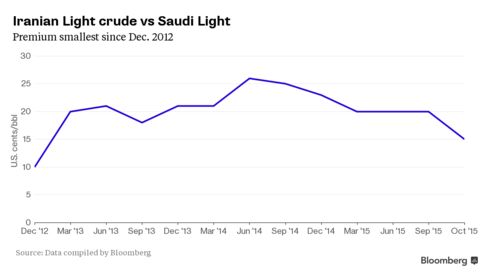 National Iranian Oil Co. will sell the Light blend at a premium of 25 cents a barrel more than the regional benchmarks, according to the people, who asked not to be identified since the information is not yet public. No one answered a call to NIOC's public relations department in Tehran on Thursday, the first day of the country's weekend.
Saudi Arabia, the world's largest crude exporter and biggest member of OPEC, cut the premium on its main light oil grade to Asia by 30 cents a barrel to 10 cents a barrel more than the regional benchmark, it said on Sept. 4. Today's pricing from NIOC puts Iran's Light crude at a premium of 15 cents to the Arab Light blend from Saudi Arabia. That's the lowest premium since it stood at 10 cents in December 2012, according to data compiled by Bloomberg.
NIOC will sell its Heavy grade crude at a discount of $1.37 a barrel in October, compared with 85 cents below the benchmark this month, the people said. The discount on Forozan crude will widen to $1.20 a barrel from 68 cents, while Soroosh and Norooz blends will sell for $6.78 less than the Heavy grade, compared with a $6.30 discount to Heavy for September.
Iran, formerly the second-largest producer in the Organization of Petroleum Exporting Countries and now fourth, aims to regain market share from other regional sellers like Saudi Arabia once international sanctions over its nuclear program are lifted. The removal of sanctions would allow Iran to boost oil shipments. Middle Eastern producers are competing increasingly with cargoes from Latin America, North Africa and Russia for buyers in Asia.
Regional sellers market their crude mostly under long-term contracts to refiners. Most of the Persian Gulf's state oil companies price their crude at a premium or discount to a benchmark. For Asia the benchmark is the average of Oman and Dubai oil grades.
Before it's here, it's on the Bloomberg Terminal.
LEARN MORE