Ikea to Keep Investing in Emerging Markets as China Fuels Growth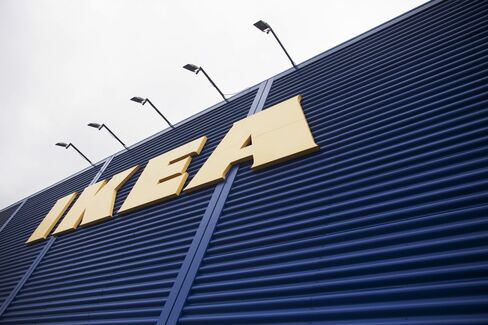 Full-year sales rose 11 percent, led by China, Russia

Retailer plans to enter India next, CEO Agnefjaell Says
Ikea Group said the world's largest furniture retailer will keep expanding in emerging markets despite recent market turmoil after Chinese and Russian revenue fueled an 11 percent increase in full-year sales.
Sales advanced to 31.9 billion euros ($35.8 billion) in the 12 months through August, the Swedish vendor of Billy bookshelves said in an e-mailed statement Thursday. Revenue gained almost 20 percent in China and more than 10 percent in Russia.
"China and Russia are at the top," Ikea Group Chief Executive Officer Peter Agnefjaell said in a telephone interview Thursday. "Going forward, we don't see any really big concerns when it comes to the sales development."
Closely-held Ikea Group, which runs the majority of the world's Ikea stores, is targeting 50 billion euros in sales by 2020 as it adds outlets, expands its online offering and introduces collections more frequently. The company plans to open three new Chinese stores in Guangzhou, Suzhou and Chengdu, Agnefjaell said. Ikea will likely enter India next, the CEO said.
Ikea has 18 stores in China and 14 in Russia at the moment, according to its website. No openings are currently on tap for Russia, where the ruble has slumped and some retailers have quit the country.
The company pushed its store count to 328 in 28 countries after adding 13 outlets in the past 12 months, including its first location in South Korea.
Ikea saw growth in all its markets save for Switzerland, where sales fell slightly due as the strong franc impacted border trade, Agnefjaell said.
While China and Russia were the fastest-growing markets, Germany had record growth and North America also performed well, Ikea said.
Before it's here, it's on the Bloomberg Terminal.
LEARN MORE