As Italy fights back from its worst economic slump since World War II, people are clinging to the four walls of their homes. That ownership has unexpectedly been driving up the nation's new-found growth and may soon lead to a tax break from Premier Matteo Renzi.
While the nation's economy shrank more than 8 percent and unemployment doubled in the seven years of the crisis, real estate was the gross domestic product component whose weighting rose the most, according to Bloomberg News calculations based on data from the country's statistics bureau.
The key is the invisible, growing financial benefit that homeowners enjoy from not having to pay rent. Known as "imputed rent," the little-known but widely accepted measure counts the theoretical rent that homeowners pay themselves as economic consumption. No cash changes hands, but a family living in a paid-off house is both a consumer and an investor.
Most importantly for the Italian GDP, the value added by the real estate component also increased over the crisis period, the calculations show, thus helping to lead the country out of recession starting late last year.

It might be no coincidence that Renzi has recently promised to abolish a much-hated tax on first homes starting from 2016, cementing the importance of ownership in the economic growth picture. Voters will likely appreciate the move in the next national elections, scheduled for 2018.
"The focus on the most precious asset Italians hold might be revealing of concerns within the government that foreign demand might not be enough to support the recovery," said Giuseppe Ragusa, assistant professor of economics at Luiss University in Rome.
The graph below shows how the various components of the Italian economy changed since 2007.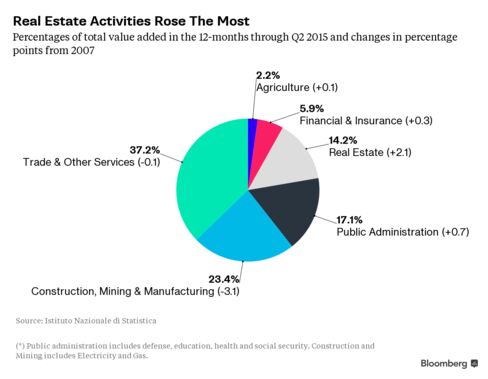 The weighting of real estate jumped 2.1 percentage points from 2007 despite a fall in transactions and property prices, and about two-thirds of that component is made of the imputed rent.
While for years it's been common knowledge that Italians' wealth strongly relied on home ownership, it turns out that owning one's residence is boosting the euro region's third-biggest economy more than in pre-recessionary times. By just residing either in owner-occupied housing or paying no rent or a below-market rent, Italians contribute to more than 8 percent of the nation's GDP, up from about 7 percent in 2007.
In a country where more than 73 percent of the population live in owned residences, the recession may have strengthened their attitude to stick to what they had and in most cases still have.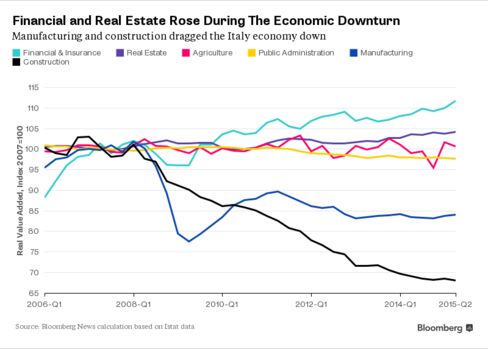 The resilience of home ownership is part of a bigger reshuffling of the Italian economy that saw the value of financial services and insurance growing the most during the economic downturn.
While construction collapsed, manufacturing slumped and may take years to regain lost ground. It remains key for an economy highly dependent on exports.
- With Vernon Silver.
Before it's here, it's on the Bloomberg Terminal.
LEARN MORE