German-U.S. Yield Gap Widens as Yellen Splits From ECB Officials
Ten-year yield spread widest in more than three weeks

ECB's Liikanen says bond purchases will be extended if needed
A divergence in monetary policy between the euro area and the U.S. helped keep down German bond yields relative to Treasuries, widening the 10-year yield gap between them to the most in three weeks.
Bunds are outperforming as traders and analysts deliberate whether the Federal Reserve, led by Chair Janet Yellen, will raise interest rates next week, while the European Central Bank sticks to its message that it's able to expand monetary stimulus if needed. ECB Governing Council member Erkki Liikanen said on Thursday the central bank was committed to continuing asset purchases "until the end of September 2016, or beyond, if necessary." He also said that the region's recovery was proceeding at a slower pace than expected.
"Given that both central banks seem to move into opposite directions I would not be surprised if the spread was to widen again," said Daniel Lenz, lead market strategist at DZ Bank AG in Frankfurt. He predicted a "160 basis-points spread or even more."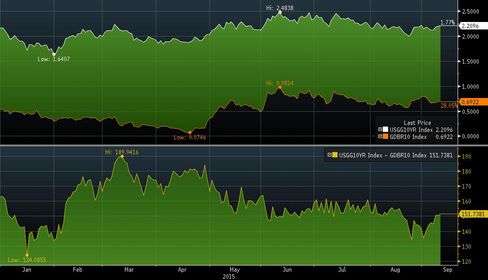 German 10-year bund yields were little changed at 0.69 percent as of 4:45 p.m. London time. The price of the 1 percent security due in August 2025 was at 102.925 percent of face value. Similar-maturity U.S. Treasury yields were at 2.22 percent, leaving the spread at 152 basis points, the most on a closing-market basis since Aug. 18.
Benchmark bund yields may drop to 0.6 percent before the Fed's Sept. 17 rates decision, said DZ Bank's Lenz said.
The comments by ECB's Liikanen reiterated remarks by the central bank's president, Mario Draghi, last week when a revamp of so-called quantitative easing was revealed. Draghi signaled officials might expand stimulus if the rout in financial markets continued to weigh on growth and inflation in the euro area.
Peter Praet, an executive board member at the central bank, said that officials would be vigilant in making sure that financial-market turbulence didn't lead to any unwarranted tightening of monetary conditions.
Meanwhile, economists in a Bloomberg survey are almost evenly divided on whether the Fed will raise interest rates at a policy meeting next week. In contrast, traders are pricing in just a 26 percent probability of a move.
French bonds advanced for a third day as a report showed industrial production unexpectedly fell in July. The risks to the global economic growth outlook were highlighted after data showed China's producer prices tumbled the most in six years and Standard & Poor's downgraded Brazil's credit rating to junk. France's 10-year bond yield fell one basis point to 1.09 percent.
Ireland's bonds gained as data showed the nation's economy grew 1.9 percent in the second quarter from a revised 2.1 percent in the three months through March. Economists in a Bloomberg survey forecast a 1 percent increase in gross domestic product. The country also sold 1 billion euros ($1.1 billion) of 15-year securities. The 10-year yield slipped three basis points to 1.30 percent.
Before it's here, it's on the Bloomberg Terminal.
LEARN MORE