Fund Flow Volatility Deepens as S&P 500 ETF Loses $11 Billion
The security sees its biggest five-day outflow since 2014

Investors are whipsawed as volatility refuses to go away
U.S. investors are having trouble adhering to a game plan in a stock market that is going up and down faster than any time in four years.
In the latest fit of nerves, they pulled $11 billion from the biggest exchange-traded fund tracking the Standard & Poor's 500 Index in the five days through Thursday. The withdrawal, the most since August 2014, followed five days in which they added $7.2 billion, data compiled by Bloomberg show.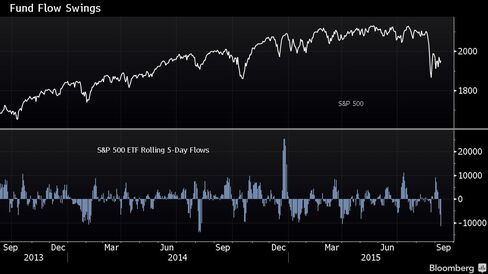 Sticking with anything is proving impossible when daily swings are averaging more than 1 percent and stocks just capped their first 10 percent correction since 2011. During the five days of withdrawals from the SPDR S&P 500 ETF Trust, the index traded between 1,911.21 and 1,988.63, a 4 percent range.
The S&P 500 lost 3.4 percent last week, the second-biggest retreat since December behind the 5.8 percent plunge it suffered in the five days through Aug. 21. A 2.5 percent advance on Tuesday following a long weekend wasn't enough to stem the flow of money out of the ETF.
The fluctuations have sent volatility skyward. The Chicago Board Options Exchange Volatility Index has now spent 12 of the last 14 days above 25, a level it had occupied on only five days since the start of 2012.
Before it's here, it's on the Bloomberg Terminal.
LEARN MORE