Fired Citigroup Trader Throws Blame at Promoted Director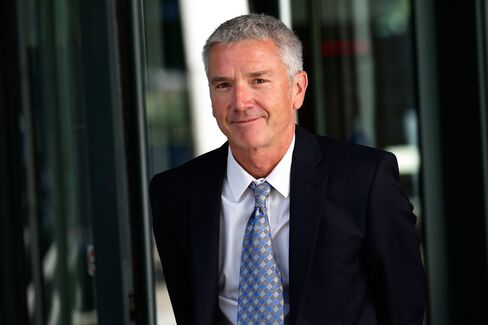 Stimpson heaps further allegations in unfair-dismissal trial

Bank says accusations in London case are totally unfounded
Fired Citigroup Inc. currency trader Perry Stimpson took another swipe at his former employers, alleging that a colleague who's since been promoted profited from front-running clients' foreign-exchange orders.
Stimpson -- who started his unfair-dismissal trial in London by saying Tuesday he wasn't there to sling mud -- implicated Michael Plavnik, now a managing director and global head of short-term interest rate foreign exchange at the lender. The bank said the accusations are totally unfounded.
Stimpson alleged that Plavnik, then head of the short term interest rate desk, bought 200 million euros ($225 million) in April 2012 after obtaining information about a large fixing order due to be carried out by the currencies desk, according to the fired trader's witness statement made public on Thursday.
Plavnik's actions were one of several examples where senior managers "deliberately flouted" the bank's own code of conduct, Stimpson said in his witness statement.
Plavnik didn't immediately respond to an e-mail seeking comment on the allegations.
"The allegation is unsubstantiated and Plavnik has not been found to have committed any misconduct" Citigroup spokesman Jeffrey French said in an e-mailed statement. In documents prepared for the trial, Citigroup said any alleged misconduct was investigated and disciplinary action was taken where it was proven.
Promoted Employee
Though Stimpson has made similar allegations at managers that have left the bank, this is the first time such a charge has been leveled at a member of staff that has since been promoted. He also alleged that Citigroup shared details of its central bank customers' trades to a client, and passed details of its foreign-exchange order book to customers.
French said Stimpson was making the accusations to deflect attention away from his own misconduct.
Stimpson's case is the first of a spate of wrongful termination lawsuits related to currency-exchange manipulation to be heard in London.
His defense hinges on the allegation that the "information sharing" that resulted in his dismissal was prevalent, not only among traders, but among senior managers who went unpunished.
Rigging Scandal
Banks have paid out more than $10 billion in fines over the currency-rigging scandal, with criminal investigations in the U.S. and the U.K. still pending. At least 30 traders at a number of banks have been fired, suspended or put on leave in the last two years since the scandal was uncovered. Former Citigroup currency traders Carly McWilliams, David Madaras and Robert Hoodless have also filed unfair dismissal suits against the bank.
Traders at HSBC Holdings Plc and Lloyds Banking Group Plc have also filed complaints. Some of the individuals were fired because of alleged behavior unrelated to currency rigging discovered as a result of the bank probes.
Damages in employment cases are normally capped at about 78,300 pounds ($120,900), unless there is a finding of discrimination or the claimant wins status as a whistle-blower.
Before it's here, it's on the Bloomberg Terminal.
LEARN MORE