Fat Paycheck, Lifetime Tenure: the Sweet Civil Service in Brazil
With unemployment soaring, state jobs are now seen as gold

Hundreds of schools prepare aspirants for government work
In July, the Brazilian state of Minas Gerais announced 32 job openings at its labor court. It received 134,270 applications.
There is nothing exceptional about Minas Gerais or its labor court. But with unemployment soaring and Brazil heading for its worst slump since the Great Depression -- Standard and Poor's just downgraded its credit rating to junk -- landing a civil-service job is like winning the lottery. It comes with an outsized paycheck, lifetime tenure and perks that can include a chauffeur and free flights.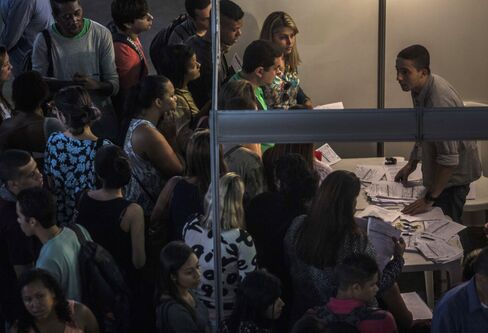 "The public sector offers stability: You pass the test and you have a job for the rest of your life," said Guilherme Alves, 21, who was studying numbing legalese in Brasilia at one of the hundreds of schools around the country dedicated to passing a state employment exam. "It's awesome."
The average salary for secretaries in Brazil's central government is 49 percent higher, relative to gross domestic product per capita, than in Mexico and nearly double in countries belonging to the Organization for Economic Cooperation and Development. The typical Brazilian government employee earned 42 percent more last year than the typical worker.
Fierce Distortions
One reason for goldplated government jobs was a program five decades ago to lure qualified Brazilians from the beaches of Rio de Janeiro to the arid savanna of the new capital, Brasilia. This exacerbated fierce distortions in the economy: Brazilians pay unusually high taxes to finance a bloated state sector that provides poor public services. The private sector also has been stifled.
"We've built up a state apparatus we cannot afford," said Gil Castello Branco, head of Contas Abertas, a watchdog of government spending. After the announcement of Brazil's junk credit rating, there were early reports that the government is considering freezing public servants' pay.
For now, judges and legislators can earn as much as 30 times the average private sector salary, plus perks.
Brazil employs fewer civil servants per capita than the U.S., France or Germany. But it has far fewer resources, so less money goes to public services, said David Fleischer, professor emeritus of political science at the University of Brasilia.
Lifetime Pension
Last year the federal government spent 20.6 percent of GDP on salaries, benefits and running costs, leaving only 1 percent for investments, according to Contas Abertas, the watchdog group.
Luring educated Brazilians to the new capital with high pay led to other imbalances. A pension for farmers, who contribute minimally to social security, was added in the mid-1980s. Single daughters of deceased military personnel receive a lifetime pension, so many live with partners without marrying, said Fleischer.
All of this has badly distorted the conditions of the private sector, according to Jose Pastore, a business professor at the University of Sao Paulo and former member of the governing body of the International Labor Organization.
"The priorities are out of balance," Pastore said in a phone interview. "The private sector employs the bulk of the workforce and doesn't have the schools or incentives offered civil servants."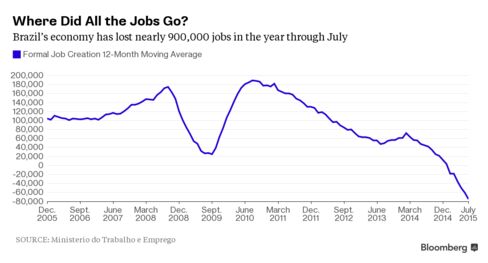 Companies spend an average of 2,600 hours a year dealing with taxes, more than 12 times the rest of Latin America, World Bank data show. Labor courts processed 3.8 million lawsuits in 2013, compared with 100,000 in the U.S. and 3,000 in Japan, according to the Brazilian industry confederation.
Mauricio Valle, 46, who runs a small eye-care business in Brasilia, says he's fed up with the red tape, corruption and taxes that stifle entrepreneurs, while the government caves in to demands from public-sector unions.
"Can I go on strike?" asked Valle, who has taken off only eight days in the past three years and moonlighted as a real-estate broker to boost his income. "Do I get a decent pension, a 30-day holiday? Brazil doesn't respect entrepreneurs. I should have gone into the public sector." He had just dropped off his daughter in a run-down sedan at a private school where shiny SUVs fill the parking lot.
Meanwhile, Brazil's 81 senators will receive new vehicles this month after just two years, according to Folha de Sao Paulo newspaper. The Supreme Court is deciding on a government request to annul a 60-day holiday for prosecutors in the finance ministry. The case has been around for eight years.
Legal Loopholes
In an effort to reduce a budget deficit that's more than 8 percent of GDP, the government earlier this year cut some labor and pension benefits. In August, President Dilma Rousseff pledged to reduce the number of ministries by 10 from 39.
But these moves probably won't make much difference. "The fiscal impact isn't very big; it's more symbolic," said Raul Velloso of ARD Consultores Associados, a Brasilia-based business consulting company.
By law, no civil servant can earn more than a Supreme Court judge, currently 33,763 reais, or $8,700, a month. In practice, legal loopholes and other work-arounds allow judges to make almost twice that, according to a report by Epoca news magazine which looked at 27 state courts. Public prosecutors and workers in the judiciary are seeking a salary increase this year of as much as 41 percent.
While the government has managed to cap total spending on civil-servant salaries, many of the labor benefits and spending obligations are part of the law, leaving little room to maneuver, Dyogo Oliveira, deputy planning and budget minister, said in an interview. Introducing standards to measure performance is also difficult, he said.
"The right to job stability is written into the constitution; it doesn't warrant a discussion," he said.
Before it's here, it's on the Bloomberg Terminal.
LEARN MORE