Pao Won't Go Quietly Even as She Drops Kleiner Bias Fight
Ex-junior partner says she refused accord requiring silence

Pao case hailed by professor as Silicon Valley 'wake up' call
Ellen Pao is ending her gender-bias lawsuit against Kleiner Perkins Caufield & Byers, saying she refused a settlement that would have barred her from disparaging the venture capital firm.

Pao said Thursday she will drop her appeal of a jury verdict rejecting her sex-discrimination claims against the firm after settlement negotiations broke down about two weeks ago. While there was a "meaningful" amount of money on the table for Pao, she wouldn't consent to a non-disparagement agreement, she said in a phone interview. She declined to be more specific about the financial terms of the offer.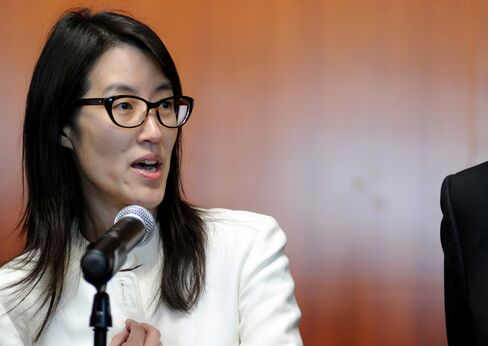 "I really think it's important that people be able to share their stories and experiences, and for me, I wanted to be able to continue to share mine," Pao said. "I believe it's made a significant difference. And I'm not willing to be silent."
Pao's litigation exposed a sexually charged atmosphere at the vaunted firm. The ex-junior partner alleged she was preyed on by male colleagues and ultimately denied a promotion and fired because she complained about her treatment.
Pao said she would pay Kleiner Perkins's legal costs of $276,000, even though the firm had offered to waive them if she dropped the appeal. Pao said in an e-mail that a Kleiner lawyer said the firm wasn't interested in a settlement if it didn't include a non-disparagement provision.
Christina Lee, a spokeswoman for Kleiner, declined to discuss Pao's comments about settlement talks.
It isn't uncommon for defendants to ask for non-disparagement agreements in settlements, said attorney Linda Friedman, who represents workers in bias cases. She advises her clients to turn down such demands.
For Pao, agreeing to keep silent would limit her ability to bring change in the industry, Friedman said.
"While she lost the lawsuit, she can be a strong advocate for change," she said.
Three months ago, Kleiner said Pao demanded that the firm pay her $2.7 million to drop her appeal, which was almost three times what it offered to settle the case before trial.
"Pao made a principled stance but we don't know if a couple more zeros after the dollar sign might've increased her willingness to settle," said Deborah Rhode, a Stanford Law School professor. "She continues to want to be a spokeswoman for the issues that she raised, and that will have a positive effect on workplace culture."
Pao's announcement that she was dropping the case came one day after her husband, Alphonse "Buddy" Fletcher Jr., lost an appeal in New York federal court related to the 2012 bankruptcy of his hedge fund's master fund.
Melinda Riechert, a lawyer who defends people and companies in gender-discrimination suits, said settlements typically involve a release of claims, a confidentiality agreement and non-disparagement provisions. Venture-capital firms often require partners to sign non-disparagement agreements at the outset of their employment, Riechert said.
Pao, who had such an agreement with Kleiner, declined to discuss how it may affect her.
While in many cases companies might be indifferent to a former partner violating a non-disparagement agreement, Pao's lawsuit is a "one of a kind case," Riechert said. "Anything that happens in typical cases doesn't apply in this case."
Alan Exelrod, Pao's lawyer, didn't respond to phone and e-mail messages seeking comment on her statement.
In March, a San Francisco jury rejected Pao's claims. Kleiner argued Pao didn't succeed at the firm because she was hard to get along with, had no experience as an entrepreneur and lacked expertise in strategic markets for investments.
"We are glad to put this trial behind us," Kleiner said in a statement. "KPCB remains committed to supporting women and minorities in venture capital and technology both inside our firm and within our industry."
Pao faced a tough road in any appeal, and had already accomplished an important goal, Rhode said. While Pao might have pursued an argument that the jury verdict was contrary to the evidence, courts are reluctant to overturn such verdicts based on factual conclusions, Rhode said.
"I think that the lawsuit accomplished a broader social purpose in exposing the level of unconscious gender bias in the financial services industry in general," Rhode said. "It was a wake-up call to a lot of Silicon Valley companies to look carefully at their performance evaluation processes, and address some of the causes of the underrepresentation of women."
Pao previously filed notices that she would appeal the legal-costs award to Kleiner and the verdict itself in a state appeals court in San Francisco.
After she was fired from Kleiner, Pao served as interim chief executive officer of Reddit Inc. Pao resigned that post in July under pressure from Reddit's board after she faced a backlash from users of its news-aggregation website for banning some message groups and firing a popular executive.
"I'm considering everything right now," she said in the interview. "I want to continue in tech and continue to help with these issues."
The case is Pao v. Kleiner Perkins Caufield & Byers LLC, CGC-12-520719, California Superior Court (San Francisco).
(The spelling of Melinda Riechert's name was corrected in earlier version of this story.)
Before it's here, it's on the Bloomberg Terminal.
LEARN MORE