China Circuit Breakers Seen Calming Biggest Swings Since 1997
Moves of 5% in the CSI 300 Index would trigger halts

New mechanism could replace existing limits on trading
China's plan to introduce a stock-market circuit breaker would help calm volatility after price swings in the benchmark index surged to an 18-year high, according to analysts and investors in a Bloomberg survey.
Twelve of the 15 respondents were in favor of the proposal while the remainder were against. Under the current plan, a move of 5 percent in the CSI 300 Index would trigger a 30-minute halt for stocks, options and index futures, according to a joint statement on Monday by the nation's two bourses and the futures exchange.
Turmoil in China's stock market sent a gauge of price swings to its highest level since 1997 last month as leveraged investors unwound bullish bets on concern valuations were unjustified amid slowing economic growth. Volatility has remained elevated despite unprecedented government intervention to stop a $5 trillion rout, including banning share sales by major investors and at one stage in July allowing more than 1,400 companies to halt trading.
"If there is a fair and transparent circuit breaker mechanism in place, it should help to stabilize the markets during the most vulnerable times," said Cedric Ma, a Hong Kong-based senior investment strategist at Convoy Asset Management Ltd., which oversees about $500 million. "It's far better than letting companies suspend their shares from trading on their own."
Stability Predicted
Under the plan, a move of 7 percent by the CSI 300 measure would halt trading for the remainder of the day. The rules would also apply to convertible bonds and some other equity-related securities. The CSI 300 index was chosen because it includes some of the largest companies traded in both Shanghai and Shenzhen, according to the statement. Feedback on the plan is being accepted until Sept. 21.
China worked to soothe concern over its economy at the Group of 20 gathering in Turkey at the weekend, with officials predicting stabilization in the currency and stock markets in the coming weeks. People's Bank of China Governor Zhou Xiaochuan said state intervention prevented systemic risk and stopped a free-fall. The government spent 1.5 trillion yuan ($236 billion) from the start of the selloff three months ago through August supporting equities, according to Goldman Sachs Group Inc.
For Francis Cheung, head of China strategy at CLSA Ltd., circuit breakers would be a positive step, provided officials are clear about the rules.
"The upside I see is if the government institutes circuit breakers, then it will no longer intervene in the stock market," said Cheung in Hong Kong. "But this is not assured."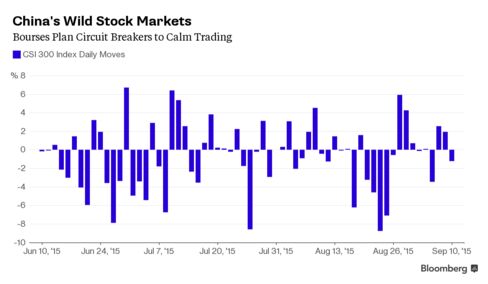 A circuit breaker could replace existing restrictions on trading as the government promotes closer integration with global markets, according to Mo Haibo, a director at Wanjia Asset Management Co. Individual stock price moves are subject to a 10 percent daily limit, while the so-called T+1 rule prevents investors from buying and selling shares on the same day. Chinese officials have been pushing for the inclusion of mainland equities in MSCI Inc.'s global benchmark indexes.
"A circuit breaker is necessary in the long term for protection under extreme market circumstances as China is very likely to scrap the 10 percent daily limit and the T+1 trade rule," Mo said from Shanghai. "Current trading rules may need to be revamped if the circuit breaker is introduced."
The CSI 300 fell 0.3 percent at the close to cap a 0.6 percent weekly loss.
A circuit breaker could increase intraday volatility as investors rush to buy or sell shares before the halt is triggered, according to Daniel So, a strategist at CMB International Securities Ltd. in Hong Kong. The CSI 300 has risen or fallen by 5 percent on 20 occasions in the past three months and half of those times daily moves exceeded 7 percent.
"It might cause more extreme market movements because investors would fear being too slow to react to good or bad news," So said. The halt would also increase selling pressure in Hong Kong, where the same companies would still be trading, he said.
U.S. Comparison
China's planned limits for stopping trading are lower than in the U.S., which installed market-wide circuit breakers after the 1987 crash. A 7 percent drop by the Standard & Poor's 500 Index would trigger a 15-minute halt for companies listed on the New York Stock Exchange and Nasdaq Stock Market. Another circuit breaker kicks in if the S&P 500 extends its losses to 13 percent before 3:25 p.m. If the plunge reaches 20 percent, the entire stock market will shut for the rest of the day.
Hong Kong's bourse will introduce a volatility-control mechanism as soon as 2016 that would prevent an individual stock from moving 10 percent or more during a five-minute period, once a session. Stocks traded in the city aren't currently subject to any daily price limits.
For Cinda Securities Co. strategist Chen Jiahe, the circuit breaker is a sign China's stock market is growing up.
"The circuit breaker mechanism may calm the market and lead to a more rational and mature performance," Chen said from Shanghai. "It's a reflection of an increasingly sound and diversified market mechanism."
Among the brokerages and money managers that participated in the survey, the following were in favor of circuit breakers: Haitong International Securities Group Ltd., Shenwan Hongyuan Group Co., China Southern Fund Management Co., Delta Asia Securities Ltd., Central China Securities Co., HFT Investment Management Co., Dongxing Securities and JK Life Insurance Co. Those against the proposal were Xiangcai Securities Co., Hengsheng Asset Management Co. and CMB International.
— With assistance by Moxy Ying, Amy Li, Amanda Wang, Helen Yuan, and Cindy Wang
Before it's here, it's on the Bloomberg Terminal.
LEARN MORE