China Matters Less for U.S. Companies Than for Stock Investors
S&P 500 generates 1.6% of revenue from China, JPMorgan says

`Source of additional market volatility, investor pessimism'
Slowing economic growth in China may have less of an effect on companies' results than on investors' confidence, according to Dubravko Lakos-Bujas, JPMorgan Chase & Co.'s chief U.S. equity strategist.
Companies in the Standard & Poor's 500 generated 1.6 percent of revenue from China last year, as shown in the chart below. The percentage would be lower if semiconductors and other technology products shipped there for re-export to other countries were excluded.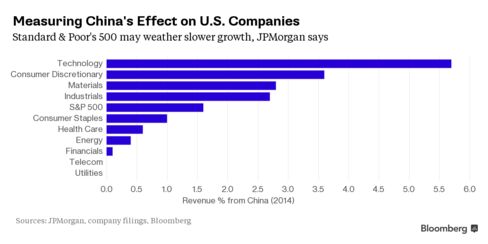 The figures reflect China's predominant role as an importer of raw materials and unfinished goods, Lakos-Bujas wrote yesterday in a report that cited the chart's figures. Most U.S. companies, he wrote, focus on sales of finished products and services domestically and in other developed markets.
"China alone will not be enough to trigger a complete reversal" in the companies' performance, the New York-based strategist wrote. "However, it will be a source of additional market volatility and investor pessimism."
Companies most dependent on revenue from China may bear the brunt of any concern, Lakos-Bujas wrote. Las Vegas Sands Corp., MGM Resorts International and Wynn Resorts Ltd. are among them, as they all own casinos in the Chinese city of Macau. Yum! Brands Inc., whose KFC and Pizza Hut restaurants in the country generate about half of its worldwide sales, is another.
At the same time, companies importing goods from China stand to benefit as the country's currency loses value, Lakos-Bujas wrote. He cited U.S. makers of mobile phones, computers, apparel and other consumer products as examples. China devalued its currency, the yuan, four weeks ago.
Before it's here, it's on the Bloomberg Terminal.
LEARN MORE