The three-day rise in global stocks is over as China's economic slowdown and next week's Federal Reserve meeting vex investors once again. After the biggest one-day rise in six years on Wednesday, the MSCI Asia Pacific Index dropped as much as 2.4 percent after Chinese producer prices sunk the most since 2009. The Shanghai Composite Index fell 1.4 percent after a two-day, 5.3 percent gain. Brazil cast a shadow over emerging market currencies after its credit rating was cut to junk by Standard & Poor's.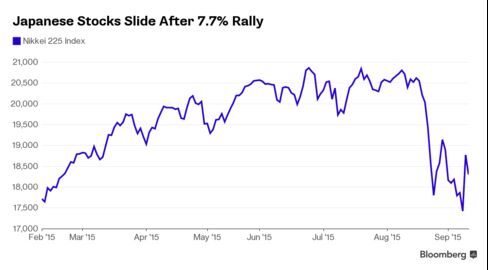 After the 7.7% rally comes the fall. Japan's Nikkei 225 Index dropped 2.5 percent following the biggest rise in seven years and the eighth largest one-day advance ever. A U.S. report showing a bigger-than-expected rise in July job openings points to a tightening labor market and may lead to the Federal Reserve raising interest rates on Sept. 17th. That would be the first increase since 2006. Traders aren't convinced it'll happen, though: futures data shows the probability of a move next week is at 28%, down from 54% before China devalued its currency.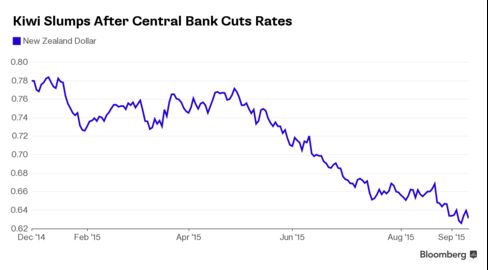 New Zealand's dollar fell against all 31 of its major peers after the nation's central bank cut interest rates for the third time in three months. Another cut may be on the way to boost inflation as economic growth slows. The official cash rate now stands at 2.75% after a 25 basis point reduction. New Zealand is battling a drop in export commodity prices which, according to RBNZ Governor Graeme Wheeler, warrants further depreciation in the local dollar. The Kiwi has plunged almost 20 percent against its U.S. counterpart in 2015, the biggest annual drop since 2008.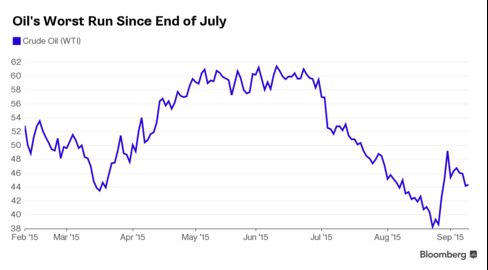 Crude oil has swung between a gain of 0.60 percent and a loss of 1.8 percent. The four-day drop was the longest since July 27th, as investors await today's U.S. stockpiles data, which is forecast to show an increase of 900,000 barrels last week. On Wednesday the Energy Information Administration cut its 2016 global demand estimate for petroleum products for the first time this year, citing an economic slowdown in Asia. Oil sank as low as $38.24 on August 24th on concerns about a global glut. Since then it's rebounded 16 percent but is still trading 28 percent below the 2015 high reached on June 10th. OPEC is keeping up its output and the U.S. stockpile remains about 100 million barrels above the five-year seasonal average.
Mark Barton is a presenter on Bloomberg TV. Follow him on Twitter @markbartontv
Before it's here, it's on the Bloomberg Terminal.
LEARN MORE