As Harper Stumbles, Deficit-Pledging Liberal Surges in Canada
Trudeau's centerpiece program breaks long-held political taboo

Move outflanks front-running New Democratic Party on the left
Justin Trudeau has moved closer to a goal that seemed beyond reach when the Canadian election campaign began five weeks ago: returning to the prime minister's residence where he spent the first 12 years of his life.
The leader of Canada's centrist Liberal Party -- who entered the campaign in third place and falling out of contention -- has edged ahead of the governing Conservatives in recent polls and narrowed the gap with the front-running New Democratic Party. One poll Wednesday showed Trudeau's party narrowly in the lead for the Oct. 19 election.
The rebound coincides with early stumbles by Prime Minister Stephen Harper as well as a centerpiece Liberal commitment to a major infrastructure undertaking paid for by running three years of deficits, a taboo in Canadian politics. Trudeau is also planning to cut taxes and raise child benefits for middle class voters and finance it by a tax increase on top income earners.
The pollster who had the Liberals leading for the first time cautions against over-interpreting their gains. Nik Nanos, president of Nanos Research, said current movements are due mostly to Harper's problems including a Senate scandal, a shrinking economy and the Syrian refugee crisis.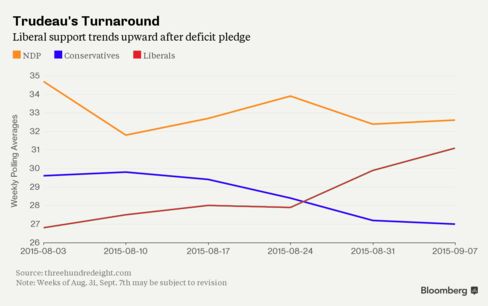 "Opposition parties should not confuse the woes of the Conservatives with the brilliance of the NDP and the Liberal campaigns," Nanos said. "Parties tend to think when their numbers move in the right direction it's because of what they do. That's partly true, but mostly it has to do with what its opponents do."
Trudeau, 43, a recreational boxer who sparred on the morning of the first campaign debate last month, is the main beneficiary after withstanding a barrage of punches in his first campaign as leader.
The Conservatives have painted him as a lightweight dilettante and aired an onslaught of attack ads portraying a hiring committee rejecting him as "just not ready" to hold the prime minister's office. One of the actors comments: "Nice hair, though."
Parrying Attacks
The Conservative ads were effective at first, but Trudeau has countered them by avoiding errors on the campaign trail, said Scott Reid, who served as a senior adviser to former Liberal Prime Minister Paul Martin.
The election "gave him a chance to show people he could stand on his own two feet and string together a sentence," Reid said.
"The problem for the Conservatives is they had a big mountain to knock down in terms of goodwill to the guy," said Reid, who is not working for the Liberals in this campaign.
Still, Ipsos Public Affairs pollster John Wright said the New Democrats have the clearest path to government, while Trudeau's hopes for significant seat gains rest heavily in Ontario. "He's got no choice," Wright said.
Unlike Father
Trudeau's father, who died in 2000, won four out of five elections, serving as prime minister from 1968 to 1979 and from 1980 to 1984. His oldest son was born on Christmas Day in 1971 and grew up in the public eye, the closest thing Canada had to a Kennedy child.
While clearly benefiting from the family association, Trudeau, a teacher by training, has also distanced himself from his father on some policies and leadership style. "My father had a particular way of doing things," he said in a televised interview Tuesday night. "I have a different way. And his was suited to his time, and mine is suited to my time."
Canada's sluggish economy -- the only Group of Seven nation to open the year with two quarters of contraction-- remains the major issue in the election. Polls have consistently picked up a strong desire for change, with Harper calling on Canadians to stay the course and the NDP and Liberals duking it out for which can provide a better alternative. An Ipsos poll released Wednesday showed Canadians now place both Trudeau and NDP Leader Tom Mulcair ahead of Harper when asked who would best manage the economy.
Red Ink
Trudeau is counting on his relative youth and his economic policies making the case. The Liberals have outflanked the NDP on the left with their readiness to embrace deficits as a means of stimulating growth. Mulcair, in contrast, has pledged to balance his first budget, taking a not-so-veiled shot at Trudeau Wednesday by saying the NDP would "not leave more debt to future generations."
Canada went nearly three decades without once balancing the books until a previous Liberal government slashed spending in the mid-1990s. Since then deficits have largely been considered politically toxic. Much of Harper's campaign positioning is based on balancing the budget for the first time since the financial crisis and drawing comparisons between his opponents and Greece.
Liberal incumbent candidate Chrystia Freeland, who co-chairs her party's economic council, said she's hearing from voters that it's the economic message -- specifically the deficit move -- that's driving the rebound in support.
"You have the greatest contrast between what we are talking about and what the other parties are talking about," Freeland said. "In a way, it's the sort of central economic debate of our times."
Before it's here, it's on the Bloomberg Terminal.
LEARN MORE