Ukraine Default Swap Holders Nurse Losses as Debt Deal Too Good
Cost of insuring nation's debt dropped by half after debt deal

Holders of contracts expiring Sept. 20 risk not getting paid
As holders of Ukraine's international debt celebrate a better-than-expected restructuring deal, there are few corks popping among buyers of the country's credit default swaps.
While Ukraine's $2.6 billion of 2017 notes surged by more than 15 cents on the dollar on Aug. 27 when Finance Minister Natalie Jaresko announced a deal with creditors, the cost of insuring the nation's debt against non-payment with CDS dropped by almost half. That means getting back less than you paid for most holders of CDS. For those who bought contracts expiring on Sept. 20, it's even worse: they risk losing everything unless a so-called credit event is announced in the coming 10 days.
Creditors agreed to a 20 percent writedown to face value and higher interest payments, significantly better than the 40 percent haircut and reduced coupons that Ukraine was said to be demanding. For a credit event to be declared by the International Swaps and Derivatives Association, the agreement may need to be passed by the nation's parliament and either a payment freeze to be implemented or the deal to be approved by bondholders.
"Holders of CDS are not happy because the deal is much better than they thought it would be," said Vadim Khramov, an analyst at Bank of America Merrill Lynch in London. "We don't think the September CDS will be triggered, but there might be some legal questions as the restructuring was
announced already. It's a gray area."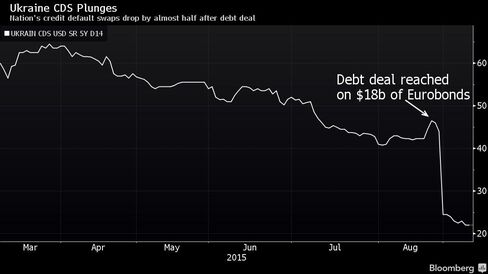 Ukraine's next sovereign bond maturity falls on Sept. 23, three days after the current CDS contract expires. The country's Finance Ministry has said it will suspend that $500 million bond payment along with a 600 million euro ($670 million) payment due on Oct. 13 to allow time for creditors to vote on the restructuring proposal.
The nation's bonds climbed on Thursday, with a $2.6 billion note due in July 2017 jumping 1.5 cents to 76.48 cents on the dollar at 3:23 p.m. in Kiev, the highest level since December.
The net notional value of default swaps outstanding on Ukraine is about $424 million, according to the Depositary Trust & Clearing Co., which maintains a warehouse of trading data. This means that about $93 million will change hands when a payout on the CDS contracts is made, according to Michael Hampden-Turner, a CDS analyst at HSBC Holdings Plc in London.
"For CDS holders, the imminent payout will be much less than
expected," Hampden-Turner said by phone on Friday. "For those who bought protection that means a sudden mark-to-market loss."
(A previous version of this story was updated to correct the analyst's job title in the seventh paragraph.)
For Related News and Information:
Holdouts Threaten Ukraine Debt Deal Some Investors Call Unfair
Russia Will Question Ukraine's IMF Program If Bond Not Paid
All You Need to Know About Ukraine's $18 Billion Debt Deal
Before it's here, it's on the Bloomberg Terminal.
LEARN MORE