U.S. Five-Year Butterfly Spread Near 15-Month Low as FOMC Looms
BNP Paribas is recommending butterfly trade to clients

``Buy the five-year if you're bullish,'' CIBC's Oh'e says
Five-year Treasury notes are near their most expensive level in 15 months relative to two- and 30-year securities before the Federal Reserve meets next week to decide whether to raise interest rates for the first time in almost a decade.
The so-called butterfly spread measuring differences between the yields was at minus 65 basis points, after dipping to as low as negative 71 basis points at the end of last week. Two-year Treasuries are more sensitive to the outlook for monetary policy, while longer-term debt tends to react more to perceptions about inflation and the economy.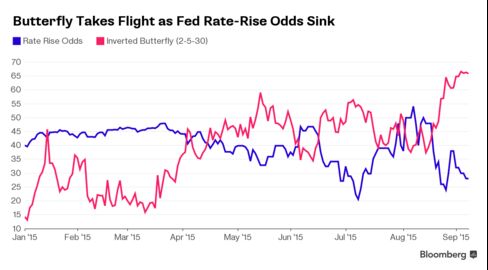 "If there is a Fed hike in the near future, twos will be sold off more rapidly than fives," Tomohisa Fujiki, the head of interest-rate strategy for Japan at BNP Paribas SA in Tokyo, said Tuesday. "Most market participants expect lower growth for the economy compared to two or three months ago, and a lower trend for the inflation rate going forward."
The five-year note yield rose three basis point to 1.55 percent as of 7:15 a.m. New York time, based on Bloomberg Bond Trader data. The 1.375 percent security due in August 2020 fell 1/8, or $1.25 per $1,000 face amount, to 99 6/32. The yield has fallen 20 basis points in the past three months, compared with a 18 basis points decline to 2.99 percent for 30-year bonds and a two basis points increase to 0.74 percent for two-year notes.
Fujiki said BNP Paribas is recommending the butterfly trade to clients, noting that auctions of $21 billion of 10-year bonds Wednesday and $13 billion of 30-year securities Thursday should support five-year notes.
Fives First
"When it's a boom market for Treasuries, people tend to purchase the five-year first -- so the five-year will easily outperform the two-year and the 10-year," said Kazuaki Oh'e, a debt salesman at CIBC World Markets Japan Inc. in Tokyo. "That is history and experience: Buy the five-year if you're bullish."
Traders are sticking to bets that the Fed will raise rates this year, even amid declining inflation expectations and a China-led global selloff that knocked more than $8 trillion from the value of stocks.
Futures put the odds of liftoff by the end of December at 60 percent, even as they reduced the probability of a move at next week's meeting to 28 percent, from 38 percent at the end of last month. The calculation is based on the assumption that the effective fed funds rate will average 0.375 percent after the first increase.
Before it's here, it's on the Bloomberg Terminal.
LEARN MORE