Thirty-year low in property for sale drives values higher

RICS, Halifax, Acadata warn of worsening supply crunch
U.K. house prices will rise faster than previously anticipated this year and mortgage lenders, real-estate agents and industry bodies are warning the acute property shortage is set to worsen.
In a report published Thursday, the Royal Institution of Chartered Surveyors increased its forecast for 2015 price growth to 6 percent from 3 percent, citing the widening imbalance between supply and demand. It also said its monthly house-price index rose to a 15-month high in August.
Separate reports reinforced that picture. Mortgage lender Halifax said home values surged 2.7 percent in August, the biggest gain since May 2014, while Acadata and LSL said prices on their measure recorded the biggest monthly increase in a year.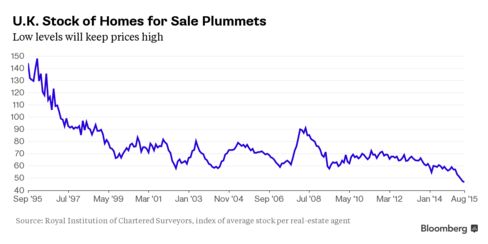 "Given current market conditions, the latest data unsurprisingly show house prices continuing to rise, and at an accelerating pace," said Simon Rubinsohn, chief economist at RICS. "There is good reason for this trend to be sustained into next year, however uncomfortable that may be for those looking to enter the market."
While demand has been volatile over the past 18 months, RICS said the most striking aspect of the market has been the supply deficit. Its measure of the average amount of stock at real-estate agents is the lowest in more than 30 years. Martin Ellis, a housing economist at Halifax, said supply is "highly constrained."
According to Halifax, the average cost of a home is now 204,674 pounds ($314,000) after prices rose 3 percent in the quarter through August and increased 9 percent in the past year. That compares with annual consumer-price inflation of just 0.1 percent and wage growth of less than 3 percent.
Government Plan
Chancellor of the Exchequer George Osborne has pledged to overhaul planning laws to help spur housing construction. The government's plans also allow it to penalize local councils that make fewer than 50 percent of their planning decisions on time.
Acadata also highlighted the "mismatch between sellers putting homes up for sale and buyer demand." Its report showed values rose 0.7 percent in August compared with July and were up 4.1 percent on an annual basis.
"The shortage of secondhand properties for sale on the market is resulting in upward pressure on house prices," said Ellis at Halifax. "Strengthening demand and highly constrained supply are likely to mean that house-price growth continues to be robust in the short term."
Before it's here, it's on the Bloomberg Terminal.
LEARN MORE