Stephen Colbert Beats Late-Night Rivals in CBS Debut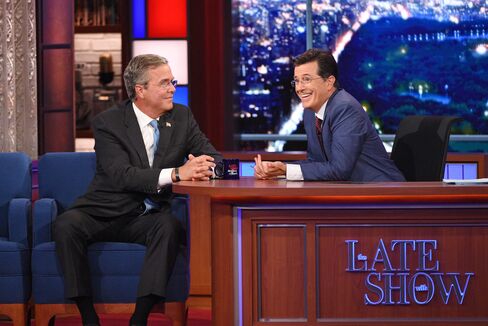 Stephen Colbert's debut on CBS beat his late-night rivals and more than doubled the ratings from the "Late Show" season premiere a year earlier, according to Nielsen data cited by the network.
"The Late Show With Stephen Colbert" averaged 6.6 million viewers on Tuesday, and reached 12 percent of U.S. households who were watching TV at the time, CBS said. NBC's "The Tonight Show Starring Jimmy Fallon" averaged 2.9 million viewers and reached 6 percent while "Jimmy Kimmel Live" on ABC averaged 1.8 million viewers and reached 3 percent of households.
Colbert's first guests included actor George Clooney and Republican presidential candidate Jeb Bush. The comedian also cracked jokes about another GOP presidential candidate, Donald Trump, while gorging on a bag of Oreos.
CBS is hoping Colbert can deliver younger viewers, a group coveted by advertisers that rarely tuned in to watch David Letterman in his later years as "Late Show" host.
Before it's here, it's on the Bloomberg Terminal.
LEARN MORE