Sibanye to Pay at Least $331 Million for Amplats Assets
$110 million upfront payment; minimum $221 million deferred

Deal could rise to $1.47 billion, depending on spot price
Sibanye Gold Ltd. agreed to buy three platinum mines in South Africa from Anglo American Platinum Ltd. for at least 4.5 billion rand ($328 million) as the biggest producer of the country's bullion seeks to increase its reserves of precious metals.
The deal involves an upfront payment of 1.5 billion rand, with a minimum deferred payment of 3 billion rand, equal to 35 percent of cash flow generated by the operations, Sibanye said Wednesday in a statement. The maximum value of the transaction is 20 billion rand, Johannesburg-based Amplats, as the Anglo American Plc unit is known, said in a separate statement. Shares in both companies rose.
Anglo Platinum "will stop losing money on Rustenburg that has been bleeding for a long time," Rene Hochreiter, a Johannesburg-based analyst at Noah Capital Markets Pty Ltd., said by phone. "It might also be a good deal for Sibanye if they get the costs down."
The sale allows Amplats, which had considered separately listing the mines, to offload assets in need of investment and focus on shallower, more mechanized operations as platinum fell to a more-than six-year low last month. For Sibanye, the deal will boost future cash flow to pay dividends if Chief Executive Officer Neal Froneman can lower costs and increase production as he has done at the company's four aging gold mines.
"Froneman is a very good manager and he's done wonderful work with bad gold mines," Hochreiter said.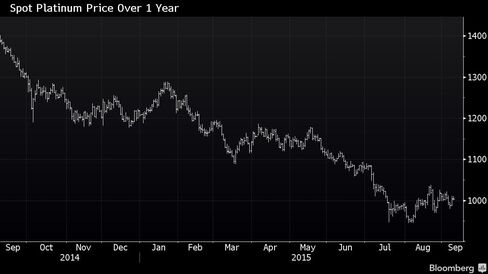 Transaction Structure
The structure of the transaction, which includes Amplats paying 800 million rand in capital costs if the mines are cash-flow negative until 2018, means Sibanye will keep its dividend at current levels.
"It protects our dividend out of the gold sector," Froneman said in an interview with Bloomberg Television. "Certainly within three years we expect the platinum market to be quite different to where it is today."
Anglo, which owns 77 percent of Amplats, has been trying to dispose of the Rustenburg mines as it seeks to exit operations that don't return 15 percent on capital employed.
Sibanye climbed 5.4 percent to close at a seven-week high of 18.50 rand in Johannesburg while Amplats gained 3 percent to 323.42 rand.
The deal will allow Amplats "to transition the portfolio, to focus on the high quality assets, with modernized, low-cost, high-margin production and reduced safety risks with the majority of the production becoming mechanized in time," CEO Chris Griffith told reporters on a conference call.
Payment Options
While Sibanye has the option of making the upfront payment in shares, it will probably pay cash as the stock is undervalued, Froneman said. The company will get a third of its production from platinum group metals once the transaction completes in the next 12 months. Its net debt won't exceed earnings after the deal, Froneman said.
The operations will produce an average of 800,000 ounces of platinum group metals in the next five years, including 500,000 ounces of platinum, Sibanye said in the statement. They have a net asset value of 7.7 billion rand and while they are not cash flow negative at current prices, they made a loss of 500 million rand in the six months ended June 30.
Amplats still plans to exit its Union operation through a sale, and there are a number of interested buyers, Griffith said.
Rand Merchant Bank and Credit Suisse Securities Europe Ltd. acted as financial advisors for Amplats while HSBC Bank Plc served on behalf of Sibanye, according to the companies' statements.
Before it's here, it's on the Bloomberg Terminal.
LEARN MORE