Russian Fashion Market's Plunge Turns Heat on Global Brands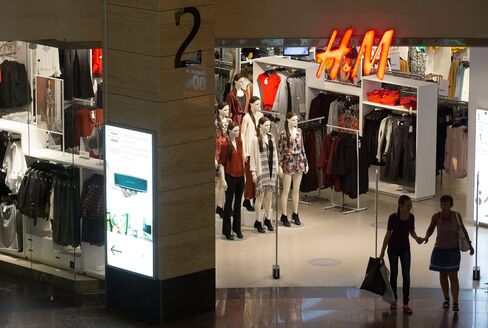 New Look, River Island among retailers to have quit country

Russian investors "not thinking about adding more franchises"
Russia's 2.25 trillion-ruble ($33 billion) fashion market is set to shrink at least 20 percent this year, adding to pressure that's causing some global brands to quit the country, according to researcher Fashion Consulting Group.
Consumer incomes have been sapped by the depreciation of the ruble against foreign currencies, Moscow-based Fashion Consulting said in an e-mailed report. Many Russians now spend half their budget on food, leaving less money for clothes, it said.
Amid the slowdown, retailers including the U.K.'s New Look and River Island have quit Russia in the past year. Marks & Spencer Group Plc, Sweden's Stockmann OYJ and Spain's Mango have reduced the number of stores in the country, while brands such as Supergroup Plc's Superdry are delaying opening plans.
"You probably won't see many international brands launching now," said Nick Hill, who runs the Russian franchise of U.K. department-store chain Debenhams Plc. "Russian investors at this end aren't thinking about adding more franchises right now."
Brands that have made prior commitments to Russia are continuing to add stores they planned several years in advance. Hennes & Mauritz AB opened its largest Russian store in Moscow's Aviapark, Europe's largest mall, on Tuesday. Debenhams debuted its flagship store there at the end of August.
The slowdown could serve to benefit retailers, as an over-supply of new retail space in Moscow leads to reductions in rental rates as much as 35 percent, according to Reinhard Doepfer, chairman of the European Fashion and Textile Export Council.
"Amazingly enough, the process of construction and opening of shopping centers continues," Doepfer said in an e-mailed presentation.
Before it's here, it's on the Bloomberg Terminal.
LEARN MORE