Russia Seen Braking Rate Cuts as Bank Has Ruble in Crosshairs
Most economists predict rate pause after five cuts in 2016

Ruble depreciation is stoking price growth amid recession
The ruble is again taking center stage in Russian monetary policy.
The central bank may look to calm the world's most volatile currency by keeping its key interest rate unchanged at a meeting on Friday, according to all but three of the 35 economists surveyed by Bloomberg. The rest predict a reduction. Policy makers will announce their decision at about 1:30 p.m. in Moscow. A news conference by Governor Elvira Nabiullina will follow at 3 p.m.
While policy makers have almost unwound last year's emergency rate increase with five cuts since January, the economy has sunk into its first recession since 2009 and a renewed selloff in oil is raising the risk of a longer slump. The ruble's tumble since the last meeting in July is a hurdle for further easing because it's feeding through to inflation, which is almost fourfold of the central bank's mid-term target.
"The Bank of Russia would've continued its rate cuts had the ruble not declined," Eldar Vakhitov, an economist at BNP Paribas SA in London, said by e-mail. "The pause probably won't be long and the central bank may cut the rate in October."
Derivatives traders are pricing in an even bigger shift in policy. Forward-rate agreements are signaling 62 basis points of increases in borrowing costs during the next three months, the most this year according to data compiled by Bloomberg. The ruble is the world's worst performer in the past 12 months against the dollar with a 46 percent drop. Its three-month implied volatility, a measure of exchange-rate swings, is the highest globally at more than 26 percent, according to data compiled by Bloomberg.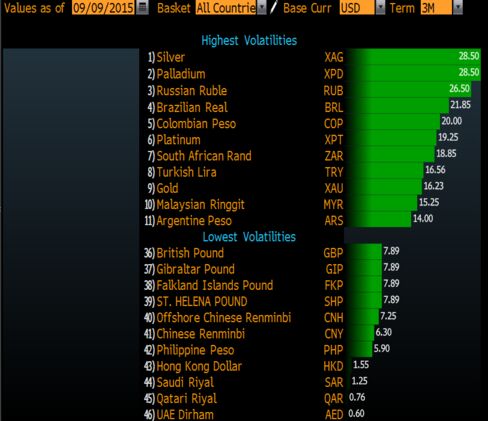 Market Turmoil
Turbulence on financial and commodities markets is reshaping the economy of the world's biggest energy exporter. It has forced the government to shorten its fiscal-planning horizon to one year from three in 2016 and to suspend the budget rule that capped public spending based on average long-term oil prices. Gross domestic product fell 4.6 percent in the second quarter from a year earlier, and the government is reviewing its forecast for this year's contraction just two weeks after it was downgraded to 3.3 percent.
Annual inflation accelerated for a second consecutive month in August, to 15.8 percent, after having slowed to this year's low of 15.3 percent in June. The current pace of price growth is "still assessed as very high," according to the central bank's last report on inflationary expectations.
Ruble Driven
"A weaker currency becomes an obstacle for continued policy easing, and rates decisions in the rest of the year would purely depend on ruble dynamics," Oleg Kouzmin, a former central bank adviser who's now an economist at Renaissance Capital in Moscow, said in an e-mailed research note Tuesday. "However, the recent currency weakness should have limited impact on inflation and provide room for continued policy easing in 2016."
Ruble weakness will have "smaller impact" on inflation than it did during the currency's crisis last winter, though it's "hard to say how much smaller," Economy Minister Alexei Ulyukayev said Tuesday.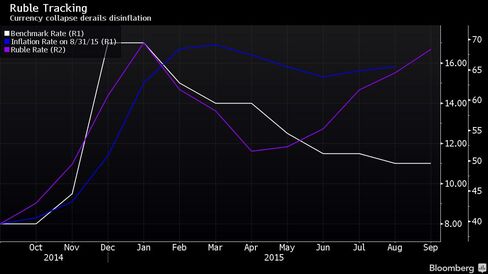 Shock Absorber
The economy is adjusting to shrinking oil prices via the ruble after the central bank shifted to a free-floating exchange rate ahead of schedule last November. Policy makers, whose last rate cut was the smallest of this year's easing cycle, in July scrapped their commitment to continue reductions.
The central bank also has to contend with an economic slowdown in China and a meeting next week by the U.S. Federal Reserve, which may raise rates for the first time since 2006. A pause would be justified, according to Tatiana Orlova, the chief Russia economist for Royal Bank of Scotland Group Plc in London.
"The central bank may prefer more clarity on the direction of the oil trend," Orlova said in a research note Wednesday. "The increased uncertainty regarding the outcome of next week's Federal Reserve decision increases the probability of the central bank choosing a cautious approach to monetary policy this month."
Before it's here, it's on the Bloomberg Terminal.
LEARN MORE