Reining in Billionaire Slim Won't Keep Inflation Down for Long
Mexico inflation rate has fallen to the lowest since 1968

Bond traders see CPI increases accelerating in next two years
Mexico's clampdown on billionaire Carlos Slim's telecommunications empire has helped push inflation to the lowest level in almost half a century. Traders are betting the decline won't last.
They're wagering consumer prices in Latin America's second-biggest economy will rise at a rate of 3.7 percent in the next two years, according to a bond-market gauge known as the break-even rate. That's the highest in at least a year.
The jumps reflects concern that the peso's 21 percent tumble in the past year will drive up import prices when economic growth is forecast to accelerate. Mexico's inflation rate sank in August to 2.59 percent, the lowest since 1968, largely because lawmakers eliminated domestic long-distance fees that Slim's America Movil SAB and other carriers charged. The move is part of government efforts to lower costs and boost competition in the phone industry.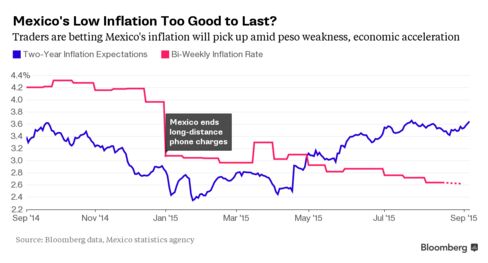 "There will be more inflation as the economy continues to recover and we get to see some businesses increasing prices after the peso depreciation," Carlos Capistran, Bank of America Corp.'s chief Mexico economist, said by phone from Mexico City. "The market is thinking the impact of the reforms was a one-off this year, and you're not going to have further help in the following years."
Phone costs have tumbled 12.2 percent in the past year, based on Mexico's consumer price index. Mexico City-based America Movil controls about 80 percent of the country's landlines and 70 percent of mobile phones.
The crackdown on the company has helped push inflation below the central bank's 3 percent goal. In every other major Latin American nation, price increases are running above target.
Still, Mexico's central bank has said the peso's slump will probably help fuel an increase in living expenses. Economists project inflation will quicken to 3.4 percent next year.
The peso plunged to a record 17.3056 per dollar on Aug. 26, part of a selloff in emerging-market currencies triggered by bets the Federal Reserve will lift interest rates this year. The peso climbed 0.4 percent to 16.7487 Wednesday as of 9:52 a.m. in New York.
The break-even rate -- the yield difference between fixed-rate and inflation-linked bonds -- has soared from a low of 2.35 percent in January.
Alejandro Padilla, the head of fixed-income strategy at Grupo Financiero Banorte SAB, recommends buying inflation-linked bonds due in 2022, saying traders' longer-term expectations are too low.
"At some point at the end of this year or the beginning of next, we should see more currency impact on inflation," he said by phone from Mexico City. "This is a good moment for investors to position themselves in those longer-term inflation-linked instruments."
Faster growth will also cause consumer prices to rise, said Barclays Plc chief Mexico economist Marco Oviedo.
The economy will expand 3.2 percent next year, compared with 2.5 percent in 2015, according to the median forecast of economists surveyed by Bloomberg.
Given strong depreciation, inflation is "definitely" going to be higher next year, "and that's probably what the market is seeing," Oviedo said from Mexico City. "Some factors that have had a downward effect on inflation will vanish."
Before it's here, it's on the Bloomberg Terminal.
LEARN MORE