McDonald's Switching to Cage-Free Eggs at U.S., Canada Locations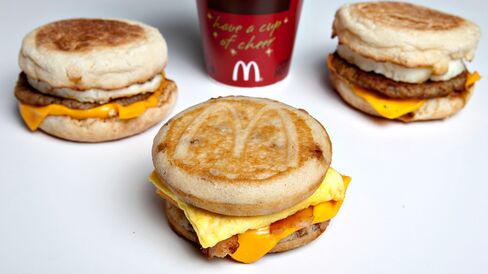 Restaurant chain plans to start all-day breakfast next month

Chief Executive Officer Easterbrook focused on improving food
McDonald's Corp. will switch to serving only cage-free eggs at its almost 16,000 restaurants in the U.S. and Canada in the next decade, a bid to appeal to diners concerned about the origins of their food.
The company buys about 2 billion eggs each year for its U.S. restaurants and 120 million for its Canadian locations, Oak Brook, Illinois-based McDonald's said in a statement Wednesday.
Chief Executive Officer Steve Easterbrook, trying to snap McDonald's prolonged sales slump, has sought to win back consumers that have fled to rivals like Chipotle Mexican Grill Inc. in search of food that's seen as healthier and more naturally produced. The egg switch also comes as McDonald's prepares to start serving breakfast all day at its U.S. locations next month, a move that risks exacerbating an egg shortage.
"Animal welfare has always been important to us and our customers," Marion Gross, chief supply chain officer for McDonald's North America, said in the statement. "This is a bold move, and we're confident in our ability to provide a quality, safe and consistent supply."
McDonald's said earlier this year that it would stop serving chicken raised with some antibiotics in the U.S. by early 2017. The company said it has been buying about 13 million cage-free eggs each year in the U.S. since 2011.
Higher Costs
McDonald's will have to pay 5 percent to 10 percent more for cage-free eggs and may have to raise menu prices, said Tom Elam, president of agriculture consultant FarmEcon LLC in Carmel, Indiana.
"We're not anticipating a price change to menu items," said Lisa McComb, a McDonald's spokeswoman. "There's a premium today for cage-free eggs, but over the course of the 10 years we hope to be able to mitigate the pricing."
U.S. egg prices have surged following a recent outbreak of avian flu, making it harder for restaurants and food companies to get enough to meet consumer demand. Retail prices rose to a record $2.57 a dozen in June and remained at that price in July, according to data from the Department of Agriculture.
The change by McDonald's, the world's biggest fast-food chain, may pressure other restaurants to buy the cage-free variety as well, Elam said.
Burger King, owned by Restaurant Brands International Inc., promised in 2012 that all of its eggs and pork would come from cage-free animals by 2017.
McDonald's shares fell 0.6 percent to $96.23 at 11 a.m. in New York. They gained 3.3 percent this year through Tuesday.
Before it's here, it's on the Bloomberg Terminal.
LEARN MORE