Markets May be Too Dovish for BOE Even as Backdrop Deteriorates: Analysis
The Bank of England may want to send a dovish signal on Thursday against a deteriorating backdrop, just not as dovish as investors currently think, Bloomberg strategist Richard Jones writes.
The challenge facing the monetary policy committee (MPC) is that fragile risk sentiment from China and other emerging markets is coupled with a deterioration in U.K. data since August's super Thursday, complicating any effort to temper market expectations.
In light of Mark Carney's comments at Jackson Hole last month, which attempted to downplay China concerns, the BOE may signal that a rate increase, while not imminent, may come sooner than the market currently expects. MPC-dated Sonia forward rates, which price expectations of overnight sterling lending rates between MPC meeting dates, are currently showing that the first full 25-basis point increase in the BOE's bank rate isn't expected until November 2016.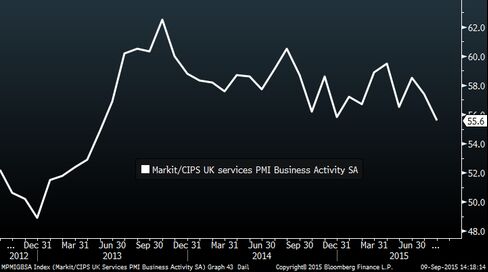 Investors, however, may not be too willing to change the current pricing profile with global uncertainty and disappointing U.K. data weighing on sentiment.
The most recent headline weekly earnings, released on Aug. 12, were lower than the previous reading and also below analyst estimates. Additionally, the negative month-on-month CPI reading from Aug. 18, together with lower services and composite PMIs on Sept. 3, may also complicate the BOE's tightening outlook.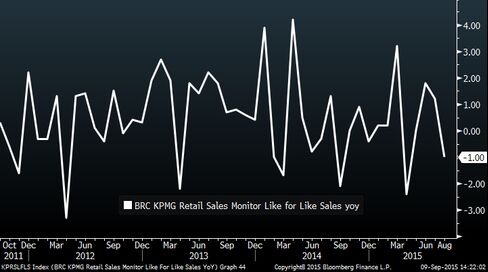 Elsewhere, August like-for-like year-on-year sales from the British Retail Consortium released on Sept. 8 fell 1 percent against an expected increase of 0.9 percent and a 1.2 percent increase in the previous month. This sharp decline echoes findings of the BDO survey last week, which showed U.K. high street sales were at their lowest since the 2008 crisis.
One thing that may give the Bank of England some scope for arguing against the market's deferred pricing of the liftoff is a weaker pound; since the previous MPC rate announcement on Aug. 6, the Deutsche Bank's trade weighted index for the pound has fallen about 2.7 percent.
The pound's weakness, however, may not last long as any move by the European Central Bank to provide further monetary stimulus in the light of lowered staff forecasts last week may push the pound considerably higher against the euro, even if BOE remains dovish. Conversely, any hawkish rhetoric from the MPC would further underpin the pound.
Market pricing could shift further out, or chances of rate rise earlier than Nov. 2016 might become even slimmer, if Ian McCafferty, the lone dissenting voice on the MPC, were to change his vote as he did earlier this year, given the lack of momentum in recent U.K. data and global uncertainties. Most analysts, however, expect McCafferty to dissent again with the rest of the MPC and vote for an immediate rate rise, a Bloomberg News survey completed on Sept. 4 shows.
The Bank of England will probably be more comfortable raising rates after the U.S. Federal Reserve raises the Fed funds rate, notwithstanding Carney's insistence that BOE can raise rates before, and independent of, the Fed. But investors aren't yet convinced of a near-term Fed rate rise either. Fed fund futures price a move of the spot rate near the middle of the 0.25-0.50 percent band only in Feb. 2016.
Note: Richard Jones is an FX and rates strategist who writes for Bloomberg. The observations he makes are his own.
Before it's here, it's on the Bloomberg Terminal.
LEARN MORE