Louis Dreyfus Unit Says Brazilian Sugar Industry Still Struggles
Producers not ready to resume investments on gradual recovery

Currency slump should help domestic mills be more competitive
Brazil's sugar producers will struggle to expand output and take advantage of the market's first supply shortfall in five years, Louis Dreyfus Commodities Holdings's sugar unit says.
Some companies may have "passed the point of no return" and won't survive, Biosev SA Chief Executive Officer Rui Chammas said in an interview in Sao Paulo. Chammas heads Brazil's second-largest sugar producer after Raizen Energy SA, the Royal Dutch Shell Plc and Cosan SA joint venture.
Raw sugar futures traded on ICE Futures U.S. in New York fell for the past four years in the longest slump since at least 1962 amid rising global inventories. About 50 Brazilian mills out of about 340 have closed and 10 more are expected to halt operations in the current season, Brazil industry group Unica said in a May report. Now, production is seen falling short of demand by 2.5 million metric tons in 2015-16 and 6.2 million tons in 2016-17, signaling higher prices, the International Sugar Organization said last month.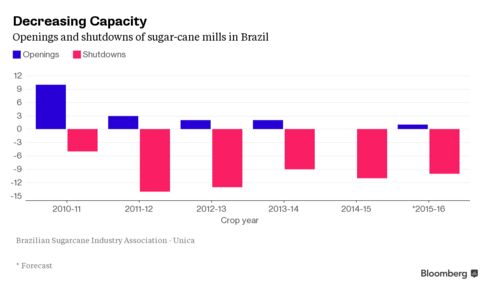 "We're going through a transition, moving from a low cycle to a high cycle," Chammas said. "While the trend is positive, we will still see a lot of volatility."
The Brazilian real's slump should also help domestic mills as it makes their exports more competitive, Chammas said. While sugar tumbled 35 percent in New York over the past year, mills in Brazil are receiving 9.4 percent more reais because of the currency's depreciation.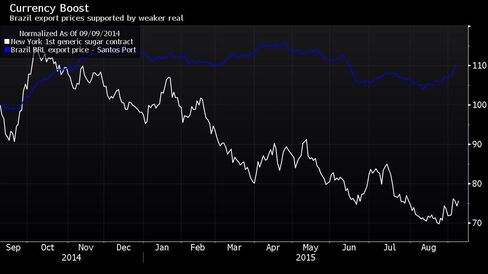 Biosev's CEO said Brazilian mills are also benefiting from a surge in domestic ethanol demand after gasoline became more costly to consumers following a tax increase earlier this year. July ethanol sales surged 40 percent from a year ago to a record 1.5 billion liters as drivers in Brazil typically fill their tanks with whichever fuel offers the best value at the pump.
Still, ethanol production expansion can be restrained because of the lack of a clear long-term government policy on biofuels, Chammas said.
While the outlook has improved, Brazilian mills including Biosev aren't ready to resume investments to expand capacity, Chammas said. Debt in Brazil's sugar industry is 82.5 billion reais ($21.6 billion), more than the 69.7-billion reais revenue expected for the current 2015-16 season, Archer Consulting said in a June report.
"We are now focused on gaining efficiency," Chammas said about Biosev's plans for the next crop season, adding that the company could make some "very timely" investments in sugar-cane planting.
Before it's here, it's on the Bloomberg Terminal.
LEARN MORE