Banks Pine for Fees as Junk-Bond Lull Hobbles Emerging Markets
Brazilian companies shun offshore markets on forex risk

Russian international bond sales plunge 75% this year
Life's getting tougher for global investment banks as some of the highest-paying deals in the world of bonds become scarce.
Sub-investment grade companies in emerging markets globally have issued $5.5 billion of U.S. currency notes so far this quarter, on track for the least since the last three months of 2011, according to data compiled by Bloomberg.. That reduction may trim gains from debt underwriting, which at Credit Suisse Group AG -- 2015's top arranger of emerging market high-yield debt -- dropped 16 percent in the first half.
Companies from China to Brazil, Russia and Mexico are shying away from offshore markets amid risk aversion and political wrangling that pushed some coupons into the double digits. The mostly blue chips left selling international securities are far less lucrative to service, with bond underwriting fees for investment-grade companies averaging 0.433 percent compared with the 0.865 percent high-yield corporates pay.
"I can imagine fewer high-yield bankers are required," said Florian Schmidt, the head of debt capital markets at SC Lowy Financial (HK) Ltd. in Hong Kong. It'll mean "less work on ratings advisory, it will impact lawyers, it will impact pretty much all professional parties. Anybody involved in primary activity will see pretty tough times ahead."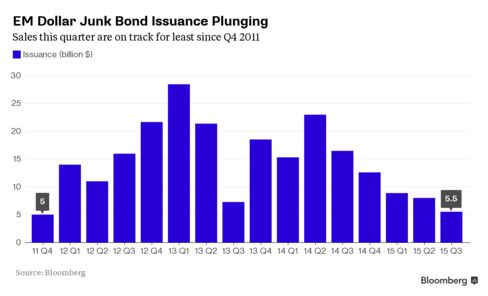 Speculative-grade bonds worldwide have lost 3.27 percent since the end of May, Bank of America Merrill Lynch index data show.
Global investment banks may see revenue slide 19 percent in the third quarter as volatility makes it harder to get deals done, analysts at JPMorgan Chase & Co. wrote in a Sept. 3 report.
At Credit Suisse, the 16 percent drop in debt underwriting fees compared with a 1 percent decline in advisory and other fees in the first six months of 2015 versus the same period of 2014. Investment-banking fees from debt sales at Bank of America Corp., which has ranked among the top five underwriters of emerging market high-yield bonds since 2009, decreased 15.4 percent.
Candice Sun, a Hong Kong-based spokeswoman for Credit Suisse, declined to comment. Tiffany Chen, a Hong Kong-based spokeswoman for Bank of America, also declined to comment.
China Pressure
Adding pressure is China, which in recent years has grown to become Asia's biggest source of new bond issuance. Chinese property developers have been conspicuously absent from international markets this year, preferring to sell yuan-denominated debt as onshore rates drop. That means even lower fees for global investment banks, which typically specialize in dollar deals and find it difficult to compete with Chinese banks on the mainland.
"More Chinese corporations issuing debt onshore will hurt banks in Hong Kong because China has been accounting for the bulk of offshore issuance in Asia in the past few years," said Ben Sy, the Hong Kong-based head of Asia fixed income, currencies and commodities at JPMorgan's private banking unit. "Banks in Hong Kong have been relying heavily on China for fees."
Companies in Brazil have also been shunning offshore markets to avoid foreign exchange risk after the real collapsed to the weakest against the greenback since October 2002. International bond sales from Latin America's largest economy have slumped 65 percent this year from the same period of 2014 to $14.7 billion, Bloomberg-compiled data show.
Not one junk-rated issuer from the country sold dollar notes between September 2014 and June this year. The $1.2 billion issued in the months since puts 2015 on track to be the slowest since 2002 for Brazilian sub-investment grade bond sales.
"You're not getting some of the sizable sub-investment-grade issuers from the region because they're either related to the commodities industry or because of some of the uncertainty surrounding Brazil's political and economic situation," said Michael Schoen, the New York-based head of debt capital markets at Scotiabank.
Russia Sanctions
Only two junk-rated Mexican companies -- Cemex SAB and hotel operator Grupo Posadas SAB -- ventured into dollar debentures this year, the least since 2008. Yields on speculative-grade notes from Mexican issuers have soared 1.92 percentage points over the past 12 months to 8.05 percent, the highest since September 2013, a Bank of America Merrill Lynch index shows.
Russian companies meanwhile, still hobbled by sanctions, saw international debt issuance plunge 75 percent this year from the same period of 2014 to just $2.2 billion. Wild swings in crude prices and a ruble that's weakened almost 20 percent against the dollar this half also dented investor confidence toward the oil exporting nation. Of that $2.2 billion in offerings, junk-rated companies accounted for $486 million.
One option for investment banks could be getting into the business of exchanging debt that's trading at distressed levels, SC Lowy's Schmidt said.
"The lack of primary activity, if it persists, could pose problems for those
investment banks running large teams," Schmidt said. "In such situations you have to adjust your business model."
Before it's here, it's on the Bloomberg Terminal.
LEARN MORE