It's Like PayPal But Pays Interest, and India's Banks Are Afraid
E-Wallet startups threaten to disrupt banks' deposit stream

Their entry is expected to reduce heavy reliance on cash
A fleet of Indian startups and telecom operators want customers to ditch their boring bank accounts and put their money into digital wallets. Their sales pitch: It pays interest, it's secure, and it's easier to pay for a cab or order takeout without running to the cash machine.
"If they can give discounts or other offers, then I will go for it," said Neha Mungekar, 28, a Mumbai-based urban planner who does a lot of online shopping and is considering leaving money in an e-wallet offered by PayTM Mobile Solutions Pvt. or another provider after hearing the accounts can now pay interest.
That's a concern for the nation's largest banks, because 40 percent of the money they lend comes from millions of small depositors like Mungekar. If more like her start shifting to digital money, they risk draining those deposits. Last month, the Reserve Bank of India gave licenses to 11 entities to operate so-called payment banks that will function a lot like PayPal Holdings Inc. in the U.S, but with a distinction -- customers can get interest on the money they leave there.
"By allowing more players in the financial services space, the RBI is forcing the existing banks to become fitter and effective," Hatim Broachwala, a banking analyst at Nirmal Bang Institutional Equities Ltd. in Mumbai, said by phone. "The game is changing, and those who can't shape up will lose out."
Nimbler Startups
The bulk of the growth for India's banking behemoths State Bank of India, ICICI Bank Ltd. and HDFC Bank Ltd. has come from opening thousands of new branches. At the same time, the country is now in the midst of a smartphone boom, and younger Indians are shunning branches and turning to apps for their banking needs, mirroring global trends.
That's where nimbler startups like the Jack Ma-backed One97 Communications Ltd., which operates PayTM, think they have an edge. Because they don't have the headaches or costs of running branches and negotiating with labor unions, they can focus on crafting financial products geared at smartphones, taking a lesson from China's success.
Alibaba Group Holding Ltd., Baidu Inc. and Tencent Holdings Ltd. built entire ecosystems in China by letting users pay, invest and manage their finances by phone.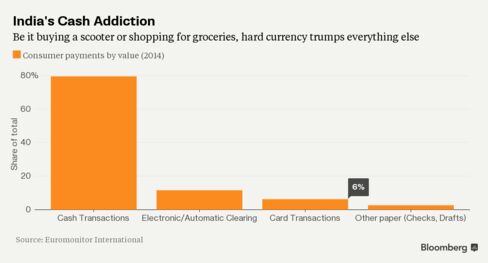 PayTM started off as a service for adding credit to burner phones, and has evolved into the country's largest e-wallet repository, allowing customers to pay utility bills, buy bus tickets and pay for Uber Technologies Inc. rides. Now it plans to build on its base of urban middle-class clientele to become a pseudo bank -- accepting deposits, offering peer-to-peer money transfers, even providing a debit card for cash withdrawals. The payment banking license was the first step.
"The traditional business model of banks is based on a float economy," One97 founder Vijay Shekhar Sharma said, referring to banks lending out depositors' money and profiting from the margin. "We say a new era of business model is based on transactions."
E-Wallets may be attractive for people wary of sharing their bank or card details on the Internet. They also make it easier to reward customers with discounts and offers redeemable at online or brick-and-mortar outlets.
Apart from One97, other payment bank licensees include three large telecom operators, industrial conglomerates, the state-owned postal service, and billionaire Mukesh Ambani's Reliance Industries Ltd., which plans to run its venture with State Bank of India.
No Lending
Payment banks can't lend and can only invest the client's money in the safest government securities. Their revenue comes from a small commission on each transaction. Their new licences are part of central bank Governor Raghuram Rajan's mission to cut the nation's addiction to cash and to increase efficiency at the banks.
About 80 percent of India's consumer payments in 2014 were with hard currency, according to Euromonitor, making it among the most cash-intensive economies on the planet. Handling all that cash has risks and costs the economy $3.5 billion, according to a January report from Tufts University commissioned by MasterCard Inc.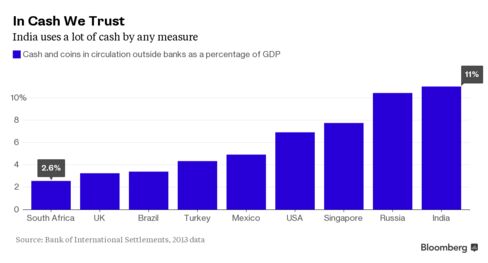 The high stakes for India's banks were on display at a recent public event attended by Rajan and Arundhati Bhattacharya, chairman of State Bank of India. The two openly disagreed about the potential threat to the banks from the decision to allow new entrants to pay interest on deposits.
"I really think we can have a revolution," Rajan said on Aug. 20, referring to payment banks' ability to bring more of India's unbanked masses into the financial system, a day after announcing the new licenses. "Payment banks are an add-on to the banks rather than competitors."
More Difficult
Bhattacharya disagreed, arguing that new entrants would make it even more difficult for India's banks, burdened with bad loans, to thrive.
"What if they go for poaching rates, then many of the commercial banks could lose a portion of the deposits," she said, expressing concern that they could offer higher interest rates. "It might cannibalize the existing business."
Even though the central bank intends the new payment banks to serve the rural masses, the companies are likely to go after the "low-hanging fruit" of the English-speaking, urban middle-class users, Mukesh Sadana, a financial inclusion specialist at consultancy Microsave Pvt., said. That audience is already well-served by conventional banks.
"But in the long term, they have to go after the bottom-of-the-pyramid masses" by opening kiosks where customers can deposit cash as well as enlisting India's shopkeepers and retail outlets to accept them, Sadana said. "That's the only way to make money."
Not Waiting
PayTM already has signed on 15,000 shops where customers can deposit cash, and the new licenses will allow them to honor withdrawals. It projects to grow to 100,000 merchants by March 2016, Sharma said. In February, Alibaba's finance arm agreed to buy 25 percent of One97.
Meanwhile, banks aren't waiting around. Internet banking has been common for more than a decade, and smartphone apps that let customers check accounts and make transfers are increasingly common. Their interfaces aren't as slick as Alibaba's Alipay or WeChat in China, but they're getting better, said P. Karthikeyan, a Chennai-based banking analyst at Cholamandalam Securities Ltd.
"It's not going to be easy for these new companies to beat the banks," he said. "Getting a customer to switch from a bank he has trusted for years is extremely difficult."
Instead, payment banks should focus on currency, like the widely circulating 100- and 500-rupee ($1.50 and $7.50) notes, said Shailesh Pandey, vice president of strategy at Fino PayTech Ltd., another recipient of a payment bank license.
"There is too much cash in India, and the most important thing is to digitize those notes," Pandey said. "Once the cash is digitized, the rest is easy."
Before it's here, it's on the Bloomberg Terminal.
LEARN MORE