Hot Brazil Bond Is Shunned by Asset Managers But Adored by Rich
So-called CRA bonds offer tax exemptions for retail investors

Food producer BRF to sell up to 1 billion reais in CRA notes
Brazil's hottest bond is illiquid and often pays below-market rates. Wealthy investors can't get enough.
The securities -- known by their Portuguese acronym CRA and pronounced Krahs -- are among private-wealth advisers' investments of choice for rich clients. The real-denominated notes are backed by receivables on crops that have already been sold through contracts, making them relatively safe in today's emerging-market selloff and resilient to commodity-price swings. Issuers love them, too. An income-tax exemption for retail investors means the borrower can pay up to 5 percentage points below Brazil's overnight rate.
Demand is so strong for the agriculture-backed notes that companies have announced an almost fivefold surge in issues this year, a rare bright spot in a credit market that's crumbling under the weight of a recession, a sweeping corruption scandal and anemic appetite for risky debt worldwide. BRF SA, Brazil's biggest processed food maker, is next to jump into the market with what could be a record 1 billion real ($262 million) offer by the end of this month.
"Investor demand for new CRAs is outpacing what the market can keep up with," said Bruno Carvalho, the head of fixed income at brokerage Guide Investimentos SA Corretora de Valores in Sao Paulo. "It's like a snowball that's just starting to roll: Investors feel more comfortable with the securities and want more, just as companies also feel more comfortable with the structure and are seeking to sell more."
Asset managers and pension funds typically wouldn't consider these bonds, Carvalho said. That's because the 15 percent tax exemption that makes them worthwhile doesn't apply to institutional investors. Small-time retail buyers probably wouldn't take part, either. In some cases, investors have to pony up at least 300,000 reais to buy the notes, according to rules issued by Brazil's capital markets regulator, known as CVM.
BRF said Aug. 26 it plans to sell 750 million reais to 1 billion reais of CRAs due in 2018. A sale at the upper end of that range would be the biggest issue ever in Brazil. The securities were created in 2004 as a way to boost funding options for producers, but it wasn't until 2012 that Octante Agronegocio sold the first CRA with an 85 million real issue.
Since then, the sale of CRAs -- as well as similar securities linked to real-estate receivables, known as CRIs -- have taken off. The almost fivefold surge in CRAs on offer this year compares with a 38 percent decrease in local real-denominated notes and an 81 percent slump in foreign-currency bonds by Brazilian companies, according to data from securities clearinghouse Cetip SA and Brazil's capital market association, known as Anbima.
Last week, Brazil's Treasury canceled a weekly auction of local government bonds for the first time in 19 months after borrowing costs surged to 14.79 percent, a six-year high.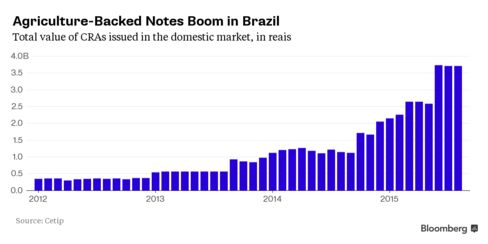 Pulp producer Suzano SA and Raizen Energia SA, a biofuel joint venture between Royal Dutch Shell Plc and Cosan SA, each boosted their initial offers to 675 million reais from 500 million reais this year because of strong investor demand, the companies said in regulatory filings.
Raizen paid investors the equivalent of 100 percent of Brazil's interbank rate known as the CDI, which is currently 14.13 percent and tracks Brazil's official benchmark rate. Suzano paid 101 percent of the CDI. BRF said in a regulatory filing it's offering as much as 96.9 percent.
BRF's press office said the company can't comment on the sale until it is completed.
The company's $500 million in dollar bonds due 2023 posted the best performance in Brazil last month, gaining 2.1 percent. Brazilian dollar-denominated corporate notes declined an average of 4 percent in August, data compiled by Bloomberg show. The real advanced 0.8 percent Wednesday to 3.7924 per dollar as of 1:27 p.m. in New York.
CRA trades in the secondary market are rare, which means investors should understand the risks of holding on to the securities until maturity, said Ricardo Magalhaes, a superintendent at Cetip in Sao Paulo.
"Investors have to take a close look at how the structure of the securitization is done and feel comfortable with the type of credit they are buying," he said in an interview. "We'll only see a more active secondary market once you see larger operations coming to market."
Demand for the notes should continue to grow, said Marcelo Urbano, the head of credit strategy at GPS Investimentos Financeiros in Sao Paulo, a family wealth manager that advises on 22 billion reais in investments.
While Brazil's economy contracted 2.6 percent in the second quarter, agriculture was one of the few industries that expanded, according to Brazil's national statistics agency. The value of crop output increased 1.8 percent in the period from a year earlier.
"This is a segment of investments that should stay hot," Urbano said in an interview. "That's especially valid for retail investors who like to buy the notes and hold them until maturity."
Before it's here, it's on the Bloomberg Terminal.
LEARN MORE