Here's Why Soaring Japan Stocks Are Good News for Short Sellers
Steepest Nikkei 225 daily gains usually come in bad years

Wednesday's 7.7% surge was the gauge's 8th-biggest since 1970
For bears who just got burned by the Nikkei 225 Stock Average's biggest rally since 2008, history should provide some comfort.
In the past week, investors made record short bets on Tokyo shares and options traders paid the most for protection from losses since 2011 -- just in time for the Nikkei 225 to soar 7.7 percent Wednesday. The silver lining for pessimists: of the Japanese measure's 20 steepest gains from 1970 until Tuesday, 16 came in a year that investors lost money.
"There are no fundamentals -- it's just fear. On the way down it's fear of losses, but on the way up it's fear of missing out," said Jasper Lawler, a London-based analyst at CMC Markets. "Bear market rallies are typically sharp moves."
Japanese equities were among the hardest hit in a monthlong global selloff spurred by China's shock yuan devaluation, with the Topix sinking as much as 16 percent through Tuesday. For Benjamin Collett, Hong Kong-based head of Asian equities at Sunrise Brokers, it's telling that Wednesday's rebound, the sixth-biggest daily points gain in the Nikkei 225's history, came without a surge in the number of shares changing hands.
"There's not much conviction in the rally," he said.
The Nikkei 225 fell 2.5 percent on Thursday, its biggest drop since Sept. 1, on volume about 2.2 percent below the 30-day average.
Extreme Move
The Nikkei 225's 7.7 percent move on Wednesday was about seven times its average daily price swing over the past year, according to data compiled by Bloomberg. Turnover was just 28 percent higher than a regular day.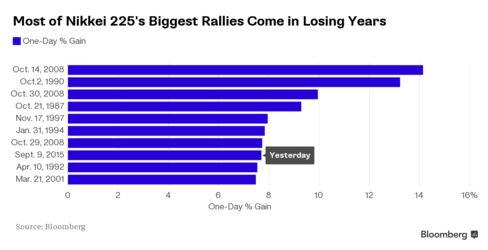 The surge came after the Nikkei 225 wiped out its 2015 advance, falling 2.4 percent on Tuesday.
Hedge funds bet against Japanese index futures that day after China's government released weak trade data for August, speculating the figures would bode ill for Shanghai shares, according to Mizuho Asset Management Co. Instead, Chinese equities rallied and short-covering drove the Nikkei 225 higher on Wednesday, said Yoshihisa Okamoto, Tokyo-based head of equity research at the fund manager. Short sales made up less than 40 percent of trading on the Tokyo Stock Exchange Wednesday for the first time this month, after the ratio rose to a record last week.
"This is mainly a short squeeze," said Amir Anvarzadeh, Singapore-based global head of Japan equity sales at BGC Capital Partners Inc. "There's a lot of money being made on the short side and I wouldn't worry about them being squeezed today. We've had a fantastic downturn in share prices."
'Looks Crazy'
With the Nikkei 225 remaining 10 percent down from its June peak, not everyone's expecting Japan stocks to resume their decline. For David Welch, head of equity sales trading at Reorient Group in Hong Kong, the prospect of further central-bank easing and investors coming back to Asia should underpin a short-term rally in Tokyo. Valuations fell Tuesday to the lowest since October.
"On a one-day basis, a move of 7 percent or more looks crazy," said Mark Matthews, head of Asia research and a managing director of Bank Julius Baer & Co. in Singapore, which oversees about $290 billion. "But considering it fell so much before, it doesn't seem outrageous," said Matthews, who is overweight Japanese shares.
The Nikkei 225's 20 biggest percentage gains prior to this week ranged from a 14 percent rebound on Oct. 14, 2008 to a 5.6 percent rally in January 1988. If Wednesday was included, it would rank eighth. Only four of the moves came in years where the Nikkei 225 advanced, and the most recent of those was in 1995.
"Investors' outlooks for Japanese shares haven't changed in a day. Long-term investors don't work like that," said Tomohiro Okawa, an equity strategist at UBS Group AG. "It would be wrong to think the tide has turned for Japanese stocks."
Before it's here, it's on the Bloomberg Terminal.
LEARN MORE