Hedge Funds' Sway Over Treasuries Grows as Wall Street Retreats
Funds' Treasury holdings reached record high as of mid-year

Dealers' inventory of Treasuries declines 46% from peak
Hedge funds are stepping up their involvement in the $12.8 trillion Treasuries market, picking up the slack from Wall Street dealers and amassing a record amount of U.S. government debt.
News this week that Element Capital Management LLC, a New York hedge fund, was pouring billions into Treasury auctions may have stunned traders because of the sums involved. Yet hedge funds' growing presence in Treasuries should come as no surprise.
Asset managers domiciled in the Caribbean, seen as a proxy for hedge funds, held $318.5 billion of U.S. government debt as of mid-year, an all-time high, the most recent Treasury data show. The barons of risk-taking are adding liquidity to the market as securities firms have stepped back because of heightened regulations following the financial crisis.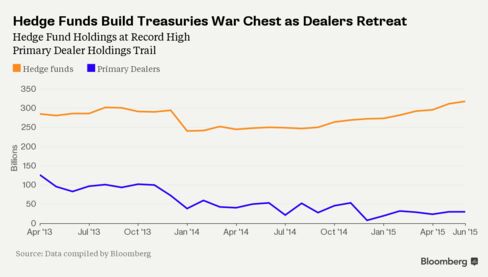 The money managers are poised for swings in fixed-income prices as the debate rages over when the Federal Reserve will raise interest rates for the first time in almost a decade. Treasuries volatility surged to a six-month high in August amid China's currency devaluation and a global equities rout. The turbulence rewarded bets on sharper price fluctuations in bonds amid global instability and diverging central bank policies.
"There are a lot of cross currents in the marketplace and a lot of competing macro calls," said Jason Evans, co-founder of NineAlpha Capital LP, a New York hedge fund specializing in U.S. government debt. "There will be opportunities in trading volatility and dislocations in the yield curve."
Largest Bidder
Element has been the largest bidder at many Treasury auctions from November to July, part of a strategy to profit from fluctuations around the offerings, the Wall Street Journal reported this week, citing unidentified people familiar with the matter.
Mike Geller, a spokesman for Element, declined to comment.
"Treasury does not comment on individual investors in Treasury auctions or conversations with market participants," department spokesman Adam Hodge wrote in an e-mail.
In the past, primary dealers, the industry's traditional marketmakers, would bet prices would fall before auctions. They'd then buy the securities at the auctions to exit those trades. The strategy became less profitable because of robust demand from international and domestic buyers. From 2009 until last year, the Fed was also purchasing Treasuries as part of efforts to boost economic growth.
Opportunity Knocks
"In the wake of the financial crisis and the Fed's bond buying, relative value and auction-play strategies had become less popular," said Ian Lyngen, an interest-rate strategist at CRT Capital Group LLC in Stamford, Connecticut. "With the Fed now out of the Treasury-buying mode and nearing the first rate hike, it follows intuitively that these strategies become increasingly more popular."
There are more trading opportunities for hedge funds since securities firms curbed risk-taking in the face of higher capital requirements set by the Basel Committee on Banking Supervision and the Dodd-Frank Act in the U.S.
The 22 primary dealers that trade Treasuries with the Fed cut their inventories by 46 percent to $78.7 billion as of last month, from a peak of $146 billion in 2013, Fed data show.
"The pendulum has swung a little from the banks to the buy side, including both traditional asset managers and hedge funds," said Evans at NineAlpha.
Before it's here, it's on the Bloomberg Terminal.
LEARN MORE