For China Brokerages, the Market Rescue Hurts More Than It Helps
Securities firms compelled to pay for part of market rescue

Curbs on speculative trading are decreasing trading volumes
China's campaign to end its $5 trillion equity rout is driving investors away from an unlikely corner of the stock market: the brokerage industry.
Instead of benefiting from government efforts to shore up the market, the Hong Kong-listed shares of Citic Securities Co., Haitong Securities Co. and China Galaxy Securities Co. have tumbled twice as fast as benchmark indexes since the beginning of July. Not only are brokerages being compelled to foot a portion of the rescue bill, they're also getting hit by a plunge in volumes as policy makers restrict speculative trading.
Securities firms are doing a "national service" in defense of the stock market, said Arthur Kwong, who helps oversee $613 billion as the head of Asia-Pacific equities at BNP Paribas Investment Partners in Hong Kong and has an underweight position in the brokerage industry. "You don't want to invest in a sector that is subject to so much uncontrollable risk."
For brokerage shares, the losses mark a dramatic reversal from just eight months ago, when booming trading revenue pushed the market value of Citic Securities to levels almost on par with UBS Group AG, the Swiss investment bank. Government intervention is keeping investors away even after valuations fell to the lowest levels since the companies first listed on the Hong Kong bourse.
Rescue Fund
Brokerages were asked by the securities regulator to contribute 100 billion yuan ($15.7 billion) to the nation's market rescue fund, people familiar with the matter said last month, adding to the 120 billion yuan pledged by a group of 21 securities firms in July. The China Securities Regulatory Commission also encouraged listed brokerages to buy back shares worth as much as 10 percent of their total market value, the people said.
Citic Securities has plunged 42 percent since the beginning of July through Wednesday. The stock was valued at 6.9 times reported profits last week, the cheapest since the shares first traded in 2011. Declines escalated after four executives at the brokerage were detained last month. Haitong Securities and Galaxy Securities trade at less than 7 times earnings after falling more than 40 percent. The MSCI China gauge dropped 20 percent in that time and has a multiple of 9.1.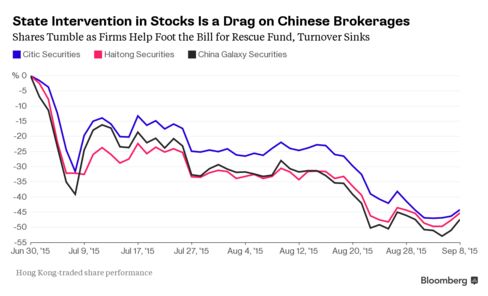 Citic Securities dropped 3.1 percent at the close in Hong Kong, while Haitong Securities slid 0.3 percent and Galaxy Securities fell 2.3 percent. The Hang Seng China Enterprises gauge slumped 2 percent.
Clarity about the rescue fund's investment income would be a "big positive" for brokerages, according to Edmond Law, a Hong Kong-based analyst with UOB-Kay Hian Holdings Ltd. The Shanghai Composite has climbed almost 10 percent from its Aug. 26 low, while volatility is ebbing.
Margin Loans
Citic Securities reported its net income tripled in the first half after turnover reached the highest ever and fees from margin lending surged. The value of shares traded on the Shanghai Composite Index dropped to a six-month low this week, while volumes in the country's CSI 300 Index futures sank to a record low on Wednesday after falling 99 percent from June highs. Margin loans tracked by Chinese exchanges have declined by more than half from their peak.
"Clearly if brokerages are being encouraged to take those sorts of actions, which is less than fully a free market, then one would think that would be a burden on their valuations," said Timothy Moe, the chief Asia Pacific strategist at Goldman Sachs Group Inc. "The supernormal profits that the brokerages earned in the first two quarters of this year will most likely not repeated in third and fourth quarters."
China's authorities are trying to prevent the rout in equities from spilling over to the broader economy, predicted to grow this year at the slowest pace since 1990. State intervention in stocks prevented systemic risk, while the government's determination to give markets greater sway hasn't changed, People's Bank of China Governor Zhou Xiaochuan said on Saturday.
"It's always going to be about balancing policy and reform," said Sam Le Cornu, the co-head of Asian listed equities at Macquarie Investment Management. "From a minority shareholder point of view, you've got to judge whether the wind is a headwind or a tailwind. Right now for the Chinese securities companies, they're faced with a headwind."
Before it's here, it's on the Bloomberg Terminal.
LEARN MORE