China Devaluations Were Fair Amid Export Plunge, Maersk Says
Weaker yuan necessary to compete for European consumers

More devaluations would be needed to raise exports, CEO says
China's devaluations of the yuan were fair and understandable reactions given the magnitude of the country's plunge in exports to Europe.
That's according to Nils Smedegaard Andersen, the chief executive officer at A.P. Moeller-Maersk, which owns the world's biggest container line. He says western economies would do the same as China under similar circumstances.
"There has been talk about criticizing China for being a currency manipulator, but I think the devaluations were actually quite fair," Andersen said in an interview in Copenhagen on Wednesday. "China has to do something to get its competitiveness strengthened for exports to Europe. China is competing with Vietnam and other Asian countries, as well as with eastern Europe and Turkey."
Chinese Premier Li Keqiang said Wednesday he wants to avoid a currency war and that his country has been "wrongly criticized" for its management of the yuan.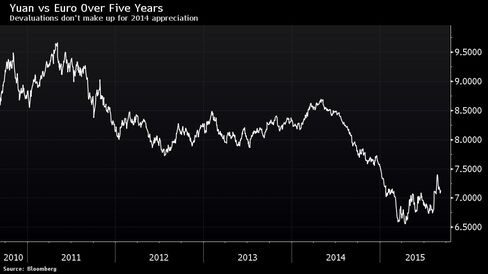 "Because the renminbi has been tracking the dollar it strengthened drastically against the euro recently," Andersen said. "It's important to remember that Europe is China's biggest export market, which gives China some challenges. The devaluations were not big enough to solve the problem, but it does bring China a step closer."
Maersk, which handles about 15 percent of the world's seaborne trade, expects volumes from Asia to Europe will contract as much as 4 percent this year, after growing 7 percent last year and 5 percent in 2013. The decline will be caused by de-stocking in Europe, sanctions against Russia and a yuan that started strengthening against the euro in May last year.
"The devaluations have actually been rather modest compared with what they would probably have to do to get exports to Europe back up again," Andersen said. "We haven't yet seen an effect at this stage. Volumes from China to Europe are very poor."
Declining Growth
Container volumes from Asia to Europe fell 7.1 percent in July, according to Bloomberg Intelligence. Freight rates on the lane plunged 33 percent.
The world's second-largest economy is operating in a reasonable range, Li said, speaking at the World Economic Forum's "Summer Davos" meeting in Dalian, China. As long as there's sufficient employment, incomes expanding in tandem with economic output and an improving environment, China can accept such growth as it had in the first half, he said.
Maersk share rose 3.2 percent yesterday as the Danish company held an investor presentation, where it repeated its financial forecast for the container line. Some analysts had feared Maersk would have cut its guidance.
"Lower Chinese growth is now a fact," Andersen said. "There's no question about the fact that Chinese growth rates are declining."
Whether China will devalue its currency again "is hard to say," according to Andersen. "But we can see the problems they have with exports to Europe."
Before it's here, it's on the Bloomberg Terminal.
LEARN MORE