Chanos Battles Carl Icahn Over Cheniere as 'Disaster' Looms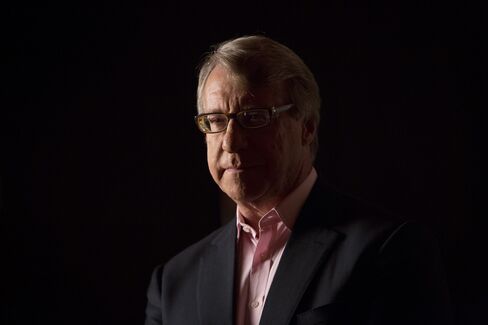 Jim Chanos is locking horns with Carl Icahn over liquefied natural gas.
Chanos said he's betting against Cheniere Energy Inc., the U.S. natural-gas exporter whose biggest shareholder is Icahn. The liquefied natural gas, or LNG, industry is a "looming disaster" and demand isn't growing anymore, Chanos said Wednesday in an interview with CNBC.
The outlook for multibillion-dollar natural gas export projects around the world has soured amid concern over the Chinese economy and falling oil prices. Liquid gas contracts have generally been linked to crude, meaning the price crash over the past year has taken a toll, said Fadel Gheit, an analyst at Oppenheimer & Co. in New York.
"The LNG market will continue to grow, but obviously it's going to be a lot slower, and a lot of companies now will think twice before investing in these facilities," he said. "There is very little margin for error. About half of the projects proposed now probably won't go through."
Last month, Icahn took control of two board seats at Houston-based Cheniere after reporting an 8.2 percent stake on Aug. 6. He said he plans to talk to management about "operations, capital expenditures, financings and executive compensation."
Cheniere fell 4.5 percent to $54.21 at 12:54 p.m. in New York, bringing losses this year to 23 percent. The stock has eight buy ratings, three holds and one sell from analysts, according to data compiled by Bloomberg.
Icahn's Seats
Cheniere Chief Executive Officer Charif Souki agreed to give Icahn the board seats in return for the investor signing agreements that limit his ability to wage a proxy fight or publicly agitate about the company.
Souki was the highest-paid CEO in corporate America in 2013. After a shareholder revolt and lawsuit, the board reduced his salary to $1 last year.
Cheniere is set to become the first exporter of gas from U.S. shale formations. Its Sabine Pass terminals on the Gulf Coast plan to begin operations in December.
U.S. exports face rising competition from Iran once sanctions end, Citigroup Inc. said in a Sept. 2 report. The plunge in oil prices already has eroded the price advantage for U.S. exports of liquefied natural gas, which in many countries competes with oil as a fuel for power plants, according to Bloomberg Intelligence.
Chanos said his firm has had a negative view of the liquefied natural gas industry for the past six months, because of increased competition coupled with slumping demand.
No 'Savior'
Liquefied natural gas "was seen as savior for a lot of natural gas plays, a way to basically satiate the incredible demand for energy out of Asia," he told CNBC. "The problem is that everybody figured this out, much like iron ore five years ago, at the same time."
Icahn's major forays into energy have made him a net gain of almost $1 billion since 2012, most of it coming from his decision to buy a refiner. The billionaire's wagers on other companies including Transocean Ltd. and Chesapeake Energy Corp. have not fared as well as oil prices began crashing last year.
Hedge funds including Baupost Group and Viking Global Investors are among Cheniere's top shareholders. Other hedge funds with stakes in the company as of midyear include PointState Capital, Lone Pine Capital and Soroban Capital Partners.
Chanos, the president and founder of New York-based hedge fund Kynikos Associates who had predicted the collapse of Enron Corp., said last year that he's shorting shares of Royal Dutch Shell Plc and BG Group Plc because of poor prospects for producers of liquefied natural gas.
Last month, Chanos said he was shorting SolarCity Corp., the biggest U.S. rooftop solar developer. Solar shares have been dropping in lockstep with the price of oil since June, disconnecting the stocks from expected growth in demand for solar energy, according to Pavel Molchanov, an analyst at Raymond James Financial Inc.
Before it's here, it's on the Bloomberg Terminal.
LEARN MORE