Carney-Yellen Spread Suggests Investors Misreading Chances of a U.K. Rate Hike
Morgan Stanley recommends betting U.S.-U.K. spread will narrow

BOE decision due Thursday after data showed exports slumped
The U.K. economy is improving in tandem with its U.S. counterpart but the bond markets are moving at different speeds.
While Bank of England officials will probably leave their key interest rate at a record low on Thursday, investors may be underestimating the pace at which officials are willing to begin removing emergency stimulus, Morgan Stanley said. That's helped push the yield difference between 10-year gilts and their U.S. equivalents toward a nine-year high, making the bonds too expensive for Amundi SA.
"The U.K. has stronger economic links with Europe than the U.S. does," said Myles Bradshaw, a London-based money manager at Amundi, which oversees more than 950 billion euros ($1.1 trillion). This may have contributed to a "shallower path of U.K. rate hikes compared to the U.S. But it has not been reflected in a significant divergence of the economic fundamentals between the U.S. and U.K," he said.
BOE Governor Mark Carney has signaled the decision about higher rates will come in to focus at the turn of the year, yet forward contracts aren't fully pricing in an increase until September 2016. Officials will keep the key rate at 0.5 percent this week, according to a Bloomberg survey, with the focus on minutes of the meeting due to be released alongside the decision at noon in London.
The deliberations come amid signs that U.K. economic growth is starting to falter after 10 consecutive quarters of expansion as fluctuations in financial markets and a slowdown in China cloud the outlook. Data released on Wednesday showed industrial production unexpectedly declined and exports of goods plunged the most in nine years.
Yield Difference
Ten-year gilt yields were at 1.87 percent at 4:25 p.m. London time Wednesday. Similar-maturity U.S. yields were 36 basis points, or 0.36 percentage point, higher at 2.23 percent. The spread reached 44 basis points in March, the widest on a closing-price basis since July 2006.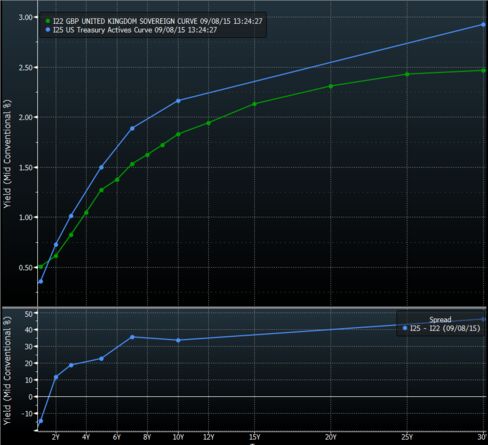 The U.K. market may also be getting support as the BOE reinvests maturing sovereign debt bought under its quantitative-easing program to keep the total amount of gilt holdings at 375 billion pounds.
Amundi is underweight in both U.K. and U.S. debt, with gilts a "key underweight position," Bradshaw said. He is head of global aggregate strategies at Amundi, managing a fund of about 7 billion euros. An underweight position means that a fund holds fewer of the securities than contained in the benchmark it uses to track performance.
"There is so little priced in terms of interest rate hikes," said Bradshaw, who was an executive vice-president and money manager at Pacific Investment Management Co. from 2007 until this year.
The Federal Reserve next meets Sept. 16-17. Traders are pricing in a 30 percent probability that the Fed increases rates at this meeting, and a 60 percent chance it will increase at or before the December meeting.
The U.S. and Britain are set to be the fastest-growing Group of Seven economies again this year, with unemployment in both countries at just over 5 percent, the lowest since 2008. Morgan Stanley said Britain is outperforming the U.S. on some metrics, including labor-force participation and consistency of growth.
The bank's London-based strategist Anthony O'Brien recommended buying 10-year Treasuries versus the U.K. bonds when the yield spread reached 33 basis points, betting it will narrow to 15 basis points.
Before it's here, it's on the Bloomberg Terminal.
LEARN MORE