Build and They May Come: Dublin Faces Office-Glut Danger
Construction of new offices may outstrip demand in 2018

Dublin office market partly dependent on Facebook, Google
Dublin, the epicenter of one of the world's worst real estate crashes in 2008, may soon face a familiar problem: too much construction.
That's according to Green REIT Plc, a property-investment firm backed by hedge-fund billionaire John Paulson. While a lack of office space in Dublin has helped rents and prices soar since 2012, the market could face an oversupply of buildings by 2018 as construction surges.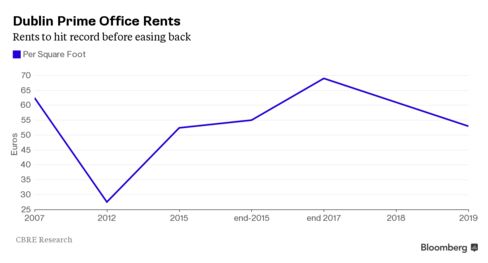 "The cranes are going up, the planning permissions are being granted, the capital is now there,'' Green REIT Executive Chairman Stephen Vernon said in an interview on Monday. "The unknown is the demand side.''
Top Dublin office rents fell by as much 55 percent in the crash that devastated the country's economy seven years ago. In the wake of the collapse, building dried up, pushing rents higher as companies led by Google Inc. and Facebook Inc. led an influx of U.S. investment into Dublin.
Cranes Back
Now, the cranes are back as developers scramble to meet demand, with billionaire Denis O'Brien among those revamping office space. The amount of offices under construction jumped to 1.4 million square feet at the end of June from 242,187 square feet a year earlier, according to DTZ Sherry Fitzgerald.
"The real threat to the office market comes from the risk that developers will overshoot on the supply side -- they always do it,'' said John McCartney, an economist at Savills Plc in Dublin. "I wouldn't think that this cycle will be any different. We will see rents falling at some point."
The return of office construction to the Irish capital is happening in tandem with the recovery of the country's economy. Gross domestic product should rise by about 6 percent this year, Finance Minister Michael Noonan told reporters in Dublin today. That could make Ireland the fastest-growing economy in the euro region.
Still, prime office rents will peak in 2017 at 69 euros per square foot, according to CBRE Group Inc. Top rents will slide to about 53 euros per square foot in 2019, CBRE says.
Pre-lets
Much of the space under construction has already been leased by Internet and information- technology firms in deals known as pre-lets, according to the property brokerage, according to DTZ Sherry Fitzgerald.
Stephen Vernon said Green's strategy is to focus on what he calls the "old core" of the city center rather than build vast new offices for technology companies that may never arrive.
Green is avoiding building "huge floor plates in the docks based on the idea that people will come if we build them," he said. "It's just not our game."
Before it's here, it's on the Bloomberg Terminal.
LEARN MORE