British Airways Passengers Flee Engine Fire on Las Vegas Runway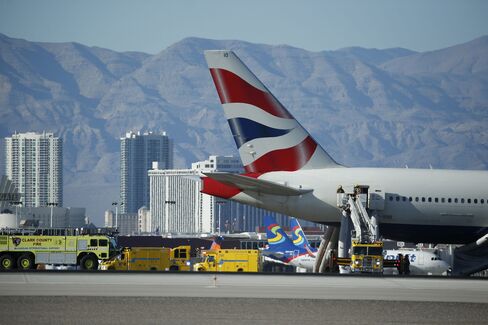 170 people on board exit safely -- eight taken to hospital

Fire broke out in engine supplied by General Electric
British Airways passengers fled a Boeing Co. jetliner after the London-bound plane caught fire while beginning its takeoff from Las Vegas airport, spewing flames and clouds of black smoke from one of its engines.
The successful evacuation of all 157 passengers and 13 crew from the twin-aisle 777-200 Tuesday contrasted with dramatic social-media imagery from the incident. While firefighters quickly brought the blaze under control, areas of the jet's fuselage were singed black by the heat. British Airways reported that eight passengers were taken to hospital.
BA flight 2276 to London Gatwick Airport "experienced a left engine fire on takeoff," U.S. Federal Aviation Administration spokesman Ian Gregor said by e-mail. The departure was aborted before the plane left the runway.
Such incidents are "extremely unusual," though not unknown, said Paul Hayes, safety director at London-based consultants Ascend Worldwide. The location of the fire suggests pooling of fuel beneath the wing, possibly associated with the emission of hot material from the engine, supplied to Boeing by General Electric Co., Hayes said.
"Our crew evacuated the aircraft safely and the fire was quickly extinguished," British Airways said in a statement. "We are looking after those who were on board." The U.S. National Transportation Safety Board will lead an investigation into the incident, it said.
The 777's pilot told passengers the fire had resulted from a "catastrophic" engine event, Britain's Guardian newspaper said, citing a reporter who was on the plane. That may indicate an uncontained failure of the GE90 turbine, currently the industry's largest, in which material is ejected through the engine casing, Hayes said, while adding that it's too early to be sure.
The most spectacular recent engine explosion concerned an Airbus Group SE A380 operated by Qantas Airways Ltd., which suffered damage in 2010 when part of a Rolls-Royce Holdings Plc Trent 900 engine casing blew off en route from Singapore, sending shrapnel through a wing and fuselage.
767 Blowout
An American Airlines Boeing 767 suffered a blowout on the ground in Los Angeles in 2006 after one of its engines was spooled up to full power in order to investigate a lag in performance, Hayes said. The high pressure turbine disk ruptured, with debris puncturing the fuselage and falling onto adjacent runways.
Boeing "is aware of the incident" in Las Vegas, and technical specialists are gathering information, the Chicago-based planemaker said via Twitter.
The 777's two engines were made by GE, British Airways confirmed. The U.S. manufacturer's office in Germany referred calls to the U.S. The GE90 competes with Rolls-Royce's Trent 800, which powers part of the British Airways 777 fleet.
The damaged 777 made its first flight in 1999 and has been with British Airways, a unit of IAG SA, since it came off the production line, according to Ascend's airliner database. The Boeing model is an industry workhorse on long-haul routes and in service with carriers around the globe.
One runway at McCarran International Airport remained out of service, with three others open for takeoffs and landings, the Las Vegas hub said. Flights were running 29 to 45 minutes late, compared with typical delays of less than 15 minutes, said Paul Bobson, an airport spokesman.
Before it's here, it's on the Bloomberg Terminal.
LEARN MORE