BOE Preview: Market Alert to Signs of Rate Path Delay as 8-1 Vote Expected
What economists are expecting from the Bank of England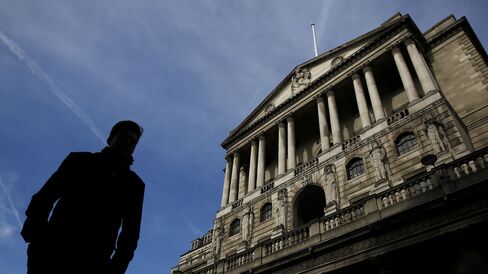 Bank of England minutes, due to be released at 1 p.m. CET Thursday, will be under market scrutiny for any hint of delay in liftoff timing due to latest international developments, such as financial turmoil in China and emerging markets, economists say.
No change in monetary policy is expected, while consensus for vote split is 8-1 with Ian McCafferty to maintain call for rate rise again. New monetary policy committee member Gertjan Vlieghe is likely to adopt a low profile at his first meeting.
Here's a round-up of what economists are saying.
JPMorgan
Global events stemming from emerging markets have shifted risks around call for first BOE rate hike in Q1 2016 to a later move.
Expect September MPC minutes to sound more caution; with so much uncertainty at present about how recent events will affect growth outlook, unlikely BOE will signal that a different path for policy rate lies ahead.
Expect McCafferty to maintain his dissent for higher rates for time being.
Morgan Stanley
Expect BOE to deliver 8-1 vote.
Moderate risk that McCafferty goes back to being on hold while Haldane, who has long been concerned about global deflation, may vote for cut.
Expect new member to keep a low profile in his first meeting.
Sees BOE lifting rates in February.
Goldman Sachs
Expect MPC to leave policy on hold; minutes and monetary policy summary will probably indicate MPC is taking stock of external risks linked to recent developments in China.
Significant likelihood that vote for unchanged policy will be unanimous.
MPC to raise rate by 25 bps in Q2 2016; MPC will only follow and not lead Fed in raising policy rate.
BNP Paribas
An 8-1 split most likely outcome.
Little scope for policy change; unlikely any further members will vote for a hike given recent volatility in markets and external downside risks to growth.
New MPC member Gertjan Vlieghe unlikely to vote against consensus at first meeting.
HSBC
Expect 8-1 split with Ian McCafferty voting for rate rise.
While Weale and Forbes may also lean toward tightening, don't think they'll join him yet given recent global volatility; hard to believe new member Vlieghe would vote for an increase at his first meeting.
Revise GBP/USD forecast to 1.58 from previous 1.45 in Q4 2015 and to 1.60 from 1.45 previously in Q1 2016, strategists team incl. David Bloom say in separate client note.
Revisions made on back of rate expectations, upside risks if investors should ever contemplate BOE moving ahead of Fed, evidence of GBP rising when BOE begins to tighten.
Risks from Brexit and U.K.'s sizeable economic imbalances remain.
Credit Agricole
BOE/ECB policy divergence should encourage renewed EUR/GBP selling especially if markets continue to recover from China-induced selloff.
Current EUR/GBP level offers an attractive selling opportunity.
Internal short-term fair value model suggests pair is excessively overvalued; fair value seen as low as 0.7150.
BOE minutes to reveal unchanged voting split with Ian McCafferty still voting for a hike.
Deutsche Bank
BOE expected to keep policy unchanged; focus will be on whether the one dissenting voice last month continued to vote for a rate rise in aftermath of last month's market volatility.
One member could still vote in favor of higher rates if market conditions are stable at time of meeting.
Nomura
McCafferty to be lone dissenting voice again.
While there may discussion about China, this isn't new; every MPC Minutes in past 6 months has discussed China and Mark Carney said at Jackson Hole they're not enough to blow the MPC off their trajectory.
Expect a February increase, albeit with risks of a later move, much sooner than market pricing.
Citigroup
Carney is sticking with the normalization theme and is hardly likely to give the impression that rate rises are on hold indefinitely.
The near-term risk is that MPC push back again the flatness of the front-end, as they did in April.
That said, global events dominate and the risk of policy error (like the ECB/Riksbank in 2011) acts as a deterrent.
Barclays
Recent GBP depreciation likely to be confirmed this week.
BOE meeting and minutes should reveal an even more cautious monetary policy stance than that in August Inflation Report, given recent Chinese growth concerns and financial market volatility.
Macro policy mix in U.K. remains tight; MPC remains uncomfortable with persistent GBP strength; market may price even further delays to BOE tightening.
Unicredit
A dovish BOE poses some short term downside risks to GBP.
Expect a fairly dovish BOE with at most one member voting in favor of rate hike, which should maintain some downside risks in short term.
Credit Suisse
BOE meeting likely to be a non-event with unchanged policy; in minutes expect one member to vote for a hike; MPC members are in wait-and-see mode as they look at how domestic conditions and external environment evolve.
Remain bullish on GBP; any dovish comments from BOE meeting on China or PMIs a risk.
Before it's here, it's on the Bloomberg Terminal.
LEARN MORE