As Crisis Abates, Nestle India to Reduce Reliance on Maggi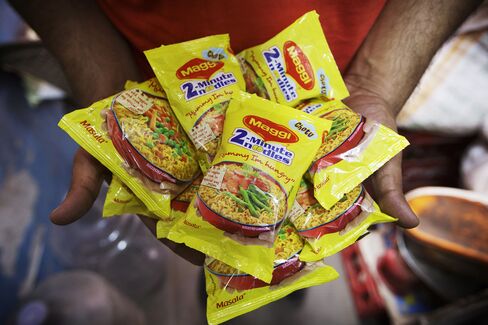 New India boss plans greater focus on milk, chocolates

Nestle says emerging from traumatic and debilitating phase
Nestle SA's Indian unit, which is recovering from the biggest crisis in its history, plans to reduce its dependence on Maggi noodles and introduce more products from its global portfolio.
An order by the Indian food safety regulator in June to recall the popular snack resulted in the company's first ever quarterly loss in more than 15 years. That made one thing clear -- Nestle is too dependent on Maggi, and that needs to change, Managing Director Suresh Narayanan said in an interview in Mumbai.
Since being parachuted into India in July by the Swiss food giant from the Philippines, Narayanan has been battling the crisis that followed tests by the local regulator showing unsafe amounts of lead in the noodles. Nestle India Ltd., which disputed the findings, plans to get Maggi back in stores by the end of the year, although the snack's share in the local unit's sales may shrink to as low as 20 percent over time from 30 percent now, he said.
"Maggi is important, but other categories are also important," Narayanan said. "We needn't have gone through a crisis to come to that conclusion."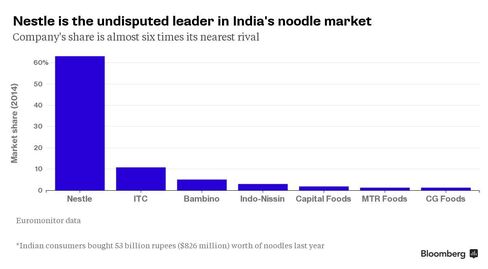 Following Nestle's legal challenge, the Bombay High Court last month overturned the ban imposed by the regulator and allowed the resumption of sales as long as additional tests were found acceptable. That process is on now, Narayanan said.
The company spent about 4.52 billion rupees ($68 million) to recall and destroy consignments from across India, and the impact on its earnings will continue as long as Maggi stays off store shelves, he said.
"We are coming out of something traumatic and debilitating," said Narayanan, a 16-year Nestle veteran who's had stints overseeing the company's operations in Singapore and Egypt as well. Resolving the Maggi issue in India "is clearly exercising every sinew in my body."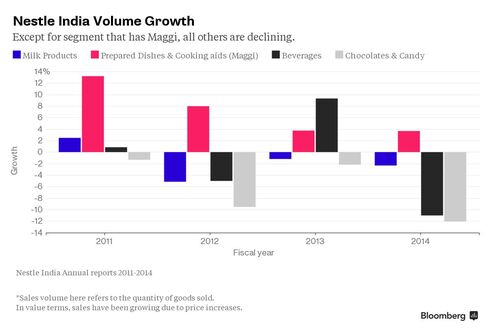 The local unit's prepared foods division, which is largely composed of Maggi instant noodles, was the only business that had sales volumes growth last year, according to its annual report. Milk products, chocolates and coffee, which accounted for the remaining 70 percent of its revenue, have all declined by an average 8 percent.
It may take as long as 2 1/2 years for Maggi sales to return to pre-crisis levels, Sachin Bobade, a consumer goods analyst at HDFC Securities Ltd. said.
"When some 25 percent of your portfolio is under stress, you have to focus on that and fix it first before anything else," Bobade said. "They have to spend a lot on advertising and brand-building and keep emphasizing to customers that the product is safe."
Shares of the India unit have declined 6.1 percent this year, compared with a
7.7 percent drop in the benchmark S&P BSE Sensex.
After bringing Maggi back, the company will look to expand its offerings in chocolates and beverages including coffee and milk products, Narayanan said. At the first stage, the focus will be on adding more variants, followed by introductions of some of Nestle's global portfolio of food products.
"The challenge for Nestle is not a challenge of opportunities, but a challenge of focus," he said. "We have no paucity of brands."
The company will also focus more on expanding sales volume, Narayanan said, referring to a criticism long leveled by analysts that Nestle, unlike its rivals such as Britannia Industries Ltd. and Hindustan Unilever Ltd., has focused on profits rather than the volume of goods sold.
"I've been at this company at stages in its history when volume growth was extremely robust, but today, the numbers show they aren't as attractive," Narayanan said. "Volume growth is going to become a key driver for future sustainable growth in this country."
Before it's here, it's on the Bloomberg Terminal.
LEARN MORE