Woodside Petroleum Offers $8.1 Billion for Oil Search
Woodside's $8.1 billion share offer is at a 14% premium

Oil Search's PNG LNG project started exports last year
Woodside Petroleum Ltd. offered about A$11.65 billion ($8.1 billion) in stock for Oil Search Ltd. in what would be the biggest energy takeover in the Asia Pacific region.
Woodside, the Australian oil and gas producer, offered one share for every four Oil Search shares, which amounts to a premium of about 14 percent based on its closing price on Monday. The company rose 17 percent to A$7.90 and Woodside slid 3 percent to A$29.66 at the close on Tuesday. Oil Search was one of the few oil and gas companies to report a jump in profit in the first half, driven by its Papua New Guinea liquefied natural gas project.
"The market is sending a pretty clear signal that Woodside's offer is
undervaluing the Oil Search stake in the PNG LNG project, which is really one of the most competitive LNG investments in the whole Asia Pacific region," Angus Nicholson, a market analyst at IG Markets Ltd. in Melbourne, said by
phone. "Not to mention Woodside will need PNG government support, so that could be tricky."
Papua New Guinea's government holds a 9.8 percent stake in Oil Search, according to data compiled by Bloomberg. Woodside Chief Executive Officer Peter Coleman identified the nation as a prospective target area in May last year after he pulled out of a planned investment in Israel. Oil Search has a 29 percent interest in the PNG project, which is operated by Exxon Mobil Corp., and may expect a higher offer because development costs for its assets are seen as lower than elsewhere in the world.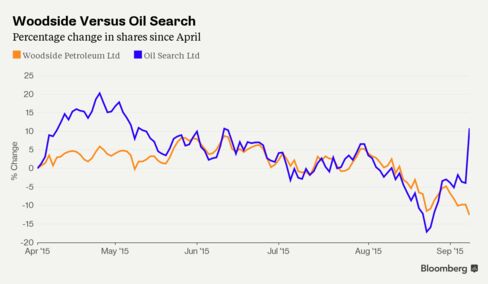 "While Oil Search will consider the proposal, it should be noted that Oil Search has a material equity position in the world class PNG LNG project and attractive, low cost, LNG development opportunities," the company said in a statement. "Oil Search shareholders are entitled to an offer which adequately reflects this value potential."
Share Rally
The implied premium of 13.6 percent compares with the average 13.7 percent premium of three similar-sized global oil exploration and production acquisitions in the past year, according to data compiled by Bloomberg. If successful, Woodside's offer for Oil Search, excluding debt, would be the biggest takeover of an energy company in Asia Pacific, surpassing BP Plc's $7.2 billion acquisition of stakes in Indian oil and gas blocks from Reliance Industries Ltd. in 2011, the data show. Including debt, it would be the second biggest after the reorganization of South Korea's SK Group this year.
Companies have announced $172 billion of oil and gas acquisitions this year, up from $123 billion a year earlier, data compiled by Bloomberg show. Brent crude, the benchmark for half the world's oil, has tumbled more than 50 percent in the last year.
The proposal sparked a rally in the shares of other Australian energy companies, with Santos Ltd. rising 5.3 percent in Sydney trading and Origin Energy Ltd. closing 3.2 percent higher.
'Bidding War'
Oil Search appointed Morgan Stanley and Allens as advisers. Woodside is being advised by Bank of America Corp., Gresham Advisory Partners Ltd. and Herbert Smith Freehills LLP.
Oil Search "is not in a hurry with a manageable balance sheet and some of the lowest-cost LNG in the region," Cristobal Garcia, a Hong Kong-based analyst at Sanford C. Bernstein & Co., wrote in a report, adding that he sees potential for a 27 percent premium. "This could turn into a bidding war" with Total SA and Exxon Mobil involved, he wrote.
The premium offered by Woodside is probably too low, and the bid faces a number of hurdles, Nik Burns, a Melbourne-based analyst at UBS Group AG, wrote in a research note. Oil Search's LNG expansion projects rank in the top two or three undeveloped conventional developments globally, according to UBS.
"The transaction makes sense for Woodside," implying an oil price of about $68.30 a barrel, Burns wrote. "We don't see Oil Search accepting an offer at this level."
PNG LNG
Oil Search Managing Director Peter Botten last month identified oil and gas companies as targets, saying in an interview with Bloomberg that the plunge in share prices following oil's collapse meant that it's now probably cheaper to buy a company than an asset. Botten and Chief Financial Officer Stephen Gardiner didn't return calls seeking comment. A spokeswoman for Perth-based Woodside declined to comment further,
Among proposed LNG projects in the Asia-Pacific region, developments in Papua New Guinea are in the best position to go ahead, Credit Suisse Group AG analysts said earlier this year.
Oil Search's production in the first half of 2015 almost tripled to 14.3 million barrels of oil equivalent, while sales rose to $864 million in the period, fueled by the LNG project with Exxon. The $19 billion PNG LNG project is considering an expansion, while Oil Search is also in a venture with Paris-based Total and InterOil Corp. that's planning a second LNG development in the Pacific country.
Woodside's biggest acquisition so far was the $2.75 billion purchase of Apache Corp.'s stakes in Australian and Canadian liquefied natural gas projects.
Before it's here, it's on the Bloomberg Terminal.
LEARN MORE