Turkey's Conflict With Kurds Widens as Unrest Spreads Nationwide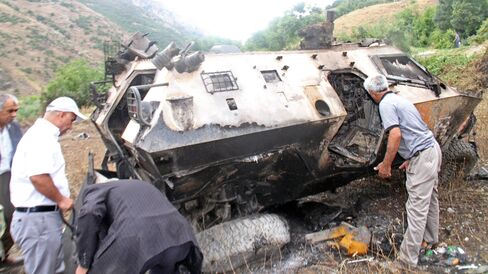 Army sends troops into northern Iraq, targets PKK bases there

Turkey to hold repeat elections in less than two months
Turkey's escalating conflict with Kurdish separatists sparked unrest across the country as mainly pro-government protesters attacked the offices of political parties and media organizations, while the army targeted rebel strongholds in northern Iraq.
Archives at the headquarters of the main Kurdish HDP party in the capital, Ankara, were set on fire late Tuesday, according to the party's co-chair, Selahattin Demirtas, and there were attacks on the party in several other cities. Authorities accuse the group of having ties with militants from the Kurdistan Workers' Party, or PKK, which killed 13 policemen in a roadside bombing earlier on Tuesday near the eastern border with Iran. Two other policemen and 16 soldiers have also been killed since Sunday.
The violence reflects a widening divide since an election in June brought the pro-Kurdish HDP party into parliament for the first time. The vote failed to produce a clear outcome, and Turks will go to the polls again on Nov. 1. Turkish President Recep Tayyip Erdogan and the governing AK Party, which he co-founded, say that giving them more power is the only way to avoid chaos after violence halted a nascent peace process.
There is "a growing risk of sectarianism fueled by the spike in violence, the government-sanctioned crackdown by the security forces, and the increasing polarization due to the approaching elections," Wolfango Piccoli, managing director of Teneo Intelligence, said in a report on Tuesday. "Turkey's political trajectory will remain volatile, undermining the country's growth prospects and financial stability while deeply-seated vulnerabilities remain unaddressed."
Iraqi Incursion
The military sent about 230 troops, including special forces, into northern Iraq for the first time since 2011 to coordinate airstrikes against rebel bases there. Almost 100 PKK fighters were killed, state-run Anadolu Agency said, citing military officials it didn't identify. Commando units also clashed with PKK fighters on remote mountains inside Turkey.
Prime Minister Ahmet Davutoglu, who vowed this week that mountains will be "cleared of terrorists" at all costs, called for calm late on Tuesday. He said attacks on political party offices and media were "unacceptable" and the fight against Kurdish militants should be left to security forces.
The PKK is classified as a terrorist group by Turkey, the U.S. and European Union. Erdogan, who presided over a peace initiative with the PKK before it broke down in recent months, said he wasn't responsible for the escalation.
Protesters stoned headquarters of Hurriyet newspaper in Istanbul for a second time since Sunday, while a branch of opposition CHP party also came under attack in the town of Sincan near Ankara, Hurriyet reported. Protesters separately set two cars on fire outside CHP office in Konya as well as a stationery shop in Kirsehir in central Turkey, the newspaper said.
Police detained 93 protesters in Istanbul over vandalism, authorities said.
Financial Markets
Financial markets remained little changed for a second day. Turkey's benchmark stock index gained 0.69 percent Wednesday. The lira, the third-worst performer among major currencies this year after losing 23 percent against the dollar, barely moved.
The U.S. Embassy in Turkey expressed concern over violent demonstrations in statements posted on Twitter, saying it is "important that Turkish political parties, media outlets receive equal protection from police."
The HDP won 13 percent of votes in June and there's some evidence that the rising tide of nationalist rhetoric and the spreading conflict in Turkey's southeast haven't dented support. Two opinion polls published in August put the HDP on 12.8 percent and 14.1 percent. Both are above the 10 percent threshold it must cross to seat lawmakers in parliament.
Kurds fear a return to the grinding war of the 1990s just months after the HDP achieved its landmark electoral breakthrough. As the repeat ballot looms, co-chairman Demirtas urged a return to negotiations and said a cease-fire was needed to be able to hold elections in the southeast.
"The security situation is bleak in the region," Demirtas said in televised remarks in Diyarbakir, the largest city in the Kurdish-dominated southeast.
"They are seeking to spark civil war. They are seeking votes over blood of Kurds."


Before it's here, it's on the Bloomberg Terminal.
LEARN MORE