Turkey Steps Up Attacks on PKK in Iraq After Soldiers' Deaths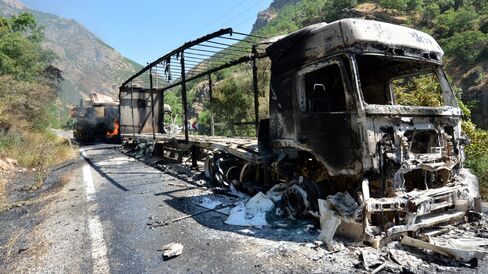 Turkish jets bombed several Kurdish rebel bases in northern Iraq and commando units clashed with militants in retaliation for the killing of Turkish soldiers on Sunday, local media reported.
Turkish F-16 and F-4 warplanes bombed seven bases of autonomy-seeking Kurdistan Workers Party, or PKK, in northern Iraq, killing as many as 40 militants overnight, the state-run Anadolu Agency reported on Tuesday, citing officials it didn't identify. Commando units were also chasing militants in the mountainous border area, Haberturk newspaper said, without saying how it obtained the information.
The death toll from the PKK's Sunday attack on two armored vehicles was the highest in a single attack against Turkish soldiers since violence flared in July, shattering a three-year lull. Thousands of protesters on Monday attacked several branches of the pro-Kurdish HDP party, Anadolu reported.
Turkey is headed to a repeat parliamentary election on Nov. 1. An inconclusive vote in June failed to produce a clear winner or a governing coalition but brought the HDP into parliament for the first time.
Before it's here, it's on the Bloomberg Terminal.
LEARN MORE