Tepco's Index-Beating Gains Seen Fueled by Power Shake-Up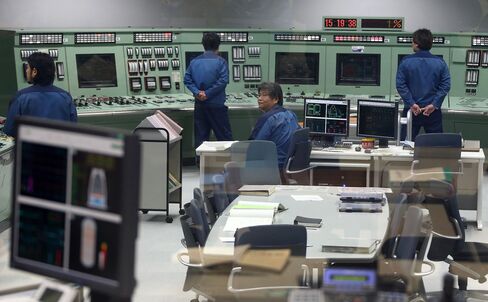 Best performer in past 6 months on Japan's Nikkei 225

Default risk seen disappearing as its earnings improve
Japan's reform of its energy market is proving a boon to investors in the company at the center of the world's worst nuclear disaster since Chernobyl.
Tokyo Electric Power Co.'s shares have surged 59 percent in the six months through Tuesday's close, making it the best performer on the Nikkei 225 Stock Average and the 174-member Bloomberg World Utilities Index.
Tokyo Electric, owner of the Fukushima Dai-ichi plant that was wrecked in the March 2011 earthquake, is seen as an early beneficiary of government-backed power reform. By April, residential power customers in Japan will be able to choose their provider for the first time. And by 2020, utilities will be required to separate their transmission, distribution and retail businesses.
"Looking towards the electricity market reform to be completed by 2020, a company the size of Tepco is an attractive investment," Mana Nakazora, an analyst at BNP Paribas Securities (Japan) Ltd., said by e-mail.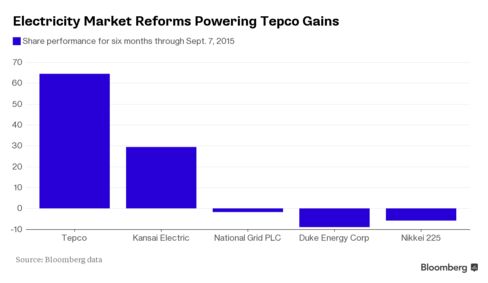 While Tokyo Electric's stock price has surged this year, it's still less than half of where it was before the Fukushima disaster. The shares rose 5.9 percent to 795 yen ($6.60) at the close on Wednesday. The company, which closed at 2,153 yen the day before Fukushima, has increased 64 percent since it announced on May 1 that it will transition to a holding company beginning in April.
Tokyo Electric was rated new overweight on Tuesday with a target price of 1,000 yen a share by Yuji Nishiyama, an analyst at JPMorgan Securities Japan Co.
Spokesman Tatsuhiro Yamagishi declined to comment on the performance of the company's stock.
More Open
For Tokyo Electric, also known as Tepco, a more open energy market in Japan offers the opportunity for growth at a company whose survival was in question just a few years ago. The Fukushima disaster put Tepco on the verge of default, with the head of Japan's biggest stock market telling the company to file for bankruptcy protection. Tepco was saved by a 1 trillion yen ($8.4 billion) infusion from the government in 2012, the nation's largest bailout since the 1990s.
The power company received 5.61 trillion yen from the state-backed Nuclear Damage Compensation and Decommissioning Facilitation Corp. to deal with payouts to victims of the Fukushima meltdown, Tepco reported last month.
Under the April reorganization, Tepco's nuclear operations will be placed into a holding company, while debt investors will be repaid from the funds of a spun-off power grid company.
Tepco's probability of debt non-payment has dropped to 0.309 percent from about 1.121 percent on Oct. 16, according to the Bloomberg default-risk model, which considers factors such as share prices and debt. The probability of debt non-payment was as high as 6.156 percent in 2012.
Rate Regulations
"The company's default risk has disappeared," said BNP Paribas's Nakazora.
The government's power reform began this year with the creation of an organization to manage the nation's supply and demand balance. Next year's full retail liberalization, the second stage of the reform, will allow utilities to more freely expand outside their traditional regions. The government aims to remove rate regulations by 2020.
"Tepco is ahead of its peers in unbundling power transmission and distribution," which all utilities will be required to do as part of the third stage of the reform process, according to Hiroki Shibata, a credit analyst at Standard & Poor's Rating Services. S&P raised the company's outlook to stable from negative in April.
A drop in fuel costs saw Tepco increase operating profit threefold in the quarter ended June 30. The price of liquefied natural gas imported into Japan fell to a six-year low in June, while crude oil prices are near a record low.
Profit Return
"Investors expected first-quarter profits to have a big increase due to the drop in oil then liquefied natural gas," Syusaku Nishikawa, a Tokyo-based analyst at Daiwa Securities Co., said by e-mail.
Yet challenges remain. Liabilities related to the Fukushima accident and Tepco's responsibilities will continue to pressure the company's credit quality in the long term, according to Mariko Semetko, a vice president at Moody's Japan K.K., which rates the company's outlook as negative.
Tepco, which operates the world's biggest nuclear plant by capacity at its Kashiwazaki-Kariwa facility in the prefecture of Niigata, has yet to restart any of its nuclear reactors. Resuming operations at the facility would boost profit by as much as 32 billion yen a month, the company has said.
"The recent improvements in profitability are definitely a plus," Semetko said by phone. "But the company hasn't yet started its Kashiwazaki-Kariwa plant and there are a lot of uncertainties around costs related to Fukushima. With all of that in mind, we haven't been able to stabilize the outlook yet."
(Corrects spelling of analyst's name in 14th paragraph in story originally published on Sept. 9.)
Before it's here, it's on the Bloomberg Terminal.
LEARN MORE