Steinhoff Profit Gains as Clothing Expansion Propels Growth
Inclusion of Pepkor clothing sales helps boost annual earnings

Steinhoff seeks Frankfurt listing to gain European investors
Steinhoff International Holdings Ltd., the South African furniture chain which gets more than half its sales from Europe, said full-year profit gained 36 percent as an expansion into discount clothing helped fuel growth. The shares rose to a record.
Net income from continuing operations was 12.4 billion rand ($899 million) for the 12 months through June, the Johannesburg-based company said in a statement on Tuesday. That includes three months of contributions from clothing seller Pepkor, South Africa's largest retailer, which Steinhoff bought last year for $5.3 billion. Sales advanced 15 percent.
Steinhoff "continues to benefit from the growth experienced within the value and discount market segments, despite the challenging and volatile global consumer environment," the company said. The retailer will focus on growing the household and general merchandise business, both through expanding existing chains and adding stores in new territories, it said.
The company, which has operations in the U.K., France and Germany, has been expanding in Europe as unemployment of 25 percent, power cuts and rising fuel prices put pressure on shoppers in South Africa. Steinhoff is also seeking to become one of the world's biggest discounters following the purchase of Pepkor.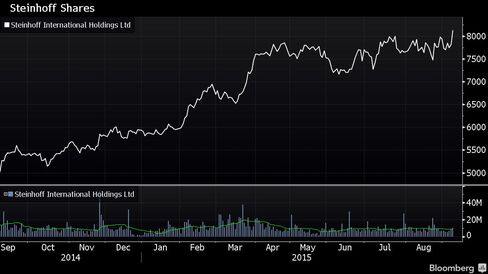 The shares rose 4 percent to a record 81.30 rand as of 3:26 p.m. in Johannesburg, bringing their gain this year to 37 percent. That compares with a 0.3 percent increase in the FTSE/JSE Top40 Index.
Steinhoff plans to list on the Frankfurt Stock Exchange later this year to increase its exposure to investors on the European continent, where it owns the French retailer Conforama. Sales on the continent gained 6.4 percent.
Net debt fell 46 percent to 26 billion rand after Steinhoff completed a foreign share placement and rights offer in July 2014. That cut net finance charges by 8 percent to 1.8 billion rand. The dividend was raised by 10 percent to 1.65 rand a share.
Before it's here, it's on the Bloomberg Terminal.
LEARN MORE