Repsol Postpones Oil Refinery Work in Spain as Margins Climb
Maintenance at Cartagena pushed back to 2016 amid margins boom

Low crude price seen supporting refining profits to year-end
Repsol SA, Spain's largest oil company, said it will postpone maintenance at its joint-biggest refinery, fueling speculation that collapsing crude prices are boosting margins and encouraging European plants to limit routine works.
The company will carry out work at the 220,000 barrel-a-day plant on the Mediterranean Sea at some point in 2016 rather than in the fourth quarter, spokesman Kristian Rix said by phone on Tuesday. He didn't say if the entire plant will halt or give a reason. The works, when they happen, will last about 45 days and take about 110,000 barrels a day offline, according to Wood Mackenzie Ltd., an Edinburgh-based energy consultant.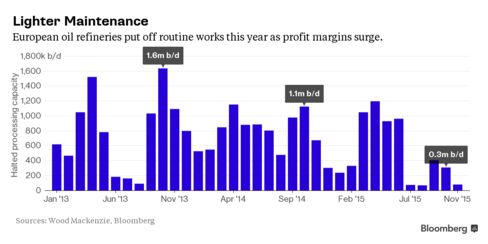 The oil-price slump has cut costs for refiners while simultaneously helping boost demand for fuels, buoying profits. From the North Sea to West Africa, crude supply in the Atlantic is poised to jump next month, according to loading programs obtained by Bloomberg. Repsol's refining margins rose to $9.10 a barrel in the second quarter from $3.10 a barrel a year earlier, the Madrid-based producer said July 30.
"They must make hay while the sun shines," said Steve Sawyer, a consultant at FGE Energy in London. "It doesn't come around very often for a refiner, so it doesn't surprise me at all."
Low oil prices and demand for heating fuel will support margins for the rest of the year, Lydia Rainforth, an analyst at Barclays Plc, said in a research note Tuesday. Its estimate for margins in northwest Europe, the region's oil hub, was $5.10 a barrel last week, compared with a negative figure for last year. Its estimate for the Mediterranean was $6.80 a barrel last week.
Brent crude traded at about $49 a barrel in London on Tuesday, down about 58 percent from last year's high of $115.71. The so-called crack spread, or the premium for diesel over crude, was at $15.88 a barrel at 1:32 p.m. in London, the highest for the time of year since 2012.
"Because refiners have enjoyed very strong margins over the summer they're continuing to maximize output and push back maintenance wherever they can," Jonathan Leitch, research director for refining and oil product markets at Wood Mackenzie, said by phone Tuesday.
Before it's here, it's on the Bloomberg Terminal.
LEARN MORE