Norway's Swelling Muni Market Gains Followers With AAA Rating
Local government bond issuance has quadrupled in 10 years

Credit rating stable based on central government backing
As Scandinavia's richest nation heads to the polls for municipal elections, promises to fund more roads, playgrounds and hydrogen fuel stations is proving a boon for investors looking to gain exposure to AAA rated Norwegian debt.
While Prime Minister Erna Solberg's government is backed by the world's biggest sovereign wealth fund, the nation's municipalities have almost quadrupled debt issuance in the 10 years through 2014 to fund welfare and infrastructure projects. Norway largely leaves municipalities to finance these, while it draws on its vast oil wealth to fill its own budget shortfalls.
Investors "get exposure to the Norway story, that's attractive," said Kristine Falkgaard, chief executive officer of Kommunalbanken, which issues debt in 20 currencies for a number of municipalities. "The central bank issues only in Norwegian kroner and we're able to offer exposure to local governments in Norway, which has never defaulted on their debt."
Norwegian municipalities, ranging from Mandal in the south to Nordkapp in the north, have about 537 billion kroner ($65 billion) in outstanding debt, according to Kommunalbanken. That's tripled from 168 billion kroner in 2005, according to DNB ASA. Kommunalbanken, a government funding agency, provides about 50 percent of that lending.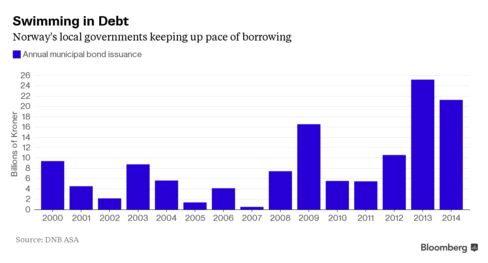 While Kommunalbanken makes up about half of municipal issuance, some local governments such as Oslo and Bergen go directly to the bond market for funding. Oslo's 22.7 billion kroner of debt outstanding at the end of 2014 is rated AAA by Standard and Poor's.
"What we see is that local governments increasingly issue debt in the capital markets themselves," said Falkgaard. That has seen the outstanding volume of bills and bonds issued directly by local governments grow "by a rather high figure" over the past three years.
What that means is that Norway in reality isn't as debt free as its $840 billion wealth fund would suggest at time when a plunge in oil prices is likely to eat at the coffers of western Europe's largest crude exporter.
The ballooning municipal debt is assumed to be covered in full by the central government.
"We don't see any immediate risks -- there's a close relationship between the central government and the municipalities which is key to our analysis," Gabriel Forss, an analyst at S&P, said by phone from Copenhagen.
The government has 325 billion in outstanding bonds. Norway plugs its budget gaps by tapping its oil revenue, an amount that it caps at 4 percent of its wealth fund. Solberg's government is siphoning off about $20 billion of its oil wealth this year and has pledged more stimulus to ward off an economic slowdown and combat rising unemployment.
With Norwegians facing local elections Sept. 14, municipalities are enticing voters with proposals such as a multi-billion krone plan to improve geriatric services including nursing home construction, a new underground rail tunnel in Oslo and more childcare places.
That should be welcome to investors.
"It's a safe asset class even in volatile times, it's not like what we're seeing in Puerto Rico," said Magnus Vie Sundal, a credit analyst at DNB.
(To be sent this Nordic Credit column, click here. For more credit market news, TOP CM.)
Before it's here, it's on the Bloomberg Terminal.
LEARN MORE