Most Popular Bonds in Russia Bet on Central Bank Policy U-Turn
Floating-rate notes betting on higher rates see auction demand

Inflation run-up presents dilemma for Bank of Russia on Friday
While Bank of Russia policy makers fret over their ability to sustain an interest rate-cutting cycle, the most popular bonds right now suggest they will reverse course and start tightening.
Demand for the floating-rate notes, whose yields are boosted by every rate increase, topped regular bonds this quarter, drawing bids for 5.3 times the amount offered on average at auctions, compared with 3.2 times for fixed-rate debt. Floaters due in December 2017 have returned 11.9 percent in the last six months, beating the gain of 10.3 percent for fixed-rate securities with a similar maturity.
Oleg Popov, a money manager at the Moscow-based firm that bought a unit of Allianz SE last year, added to his floating-rate positions last month as the ruble started tumbling. "Ruble volatility is standing in the way of the central bank's plans to cut rates," Popov, who oversees about $500 million at April Capital Asset Management, said on Tuesday.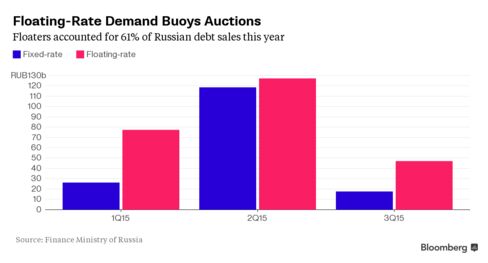 Appetite for the debt underscores the quandary policy makers face as they prepare to decide interest rates on Friday for the first time since China's shock devaluation triggered a 6.6 percent decline in the ruble and a run-up in inflation in August. While Bank of Russia Governor Elvira Nabiullina wants to keep easing policy to foster growth in the recession-wracked economy, all but two of 33 economists surveyed by Bloomberg forecast she will hold rates at 11 percent this week.
Deutsche Bank AG suggested the Bank of Russia may do more to arrest inflation, warning of "emerging risks of policy tightening," a view reflected in options trading where forward-rate agreements are pricing in 62 basis points of tightening during the next three months.
Policy Comedown
Already, Nabiullina softened her easing stance, removing a pledge for further rate cuts in a July statement accompanying a decision to lower the benchmark by 50 basis points, the smallest of five reductions since January. It remains half a percentage point from a full rollback of an emergency increase in December.
Popov turned to floating-rate notes in August as the ruble sank in tandem with oil prices and China's meltdown sent emerging markets into a tailspin.
"There's still a risk of a rate hike because of the pressure on the ruble posed by the foreign debt load, China slowdown and political concern over Ukraine," Popov said.
Inflation Dodge
The Finance Ministry started offering floating-rate bonds linked to the Ruonia overnight money-market rate earlier this year. The bonds are an alternative to fixed-rate notes whose value is eroded by inflation of 15.8 percent, almost four times above the central bank's mid-term target of 4 percent. A weaker local currency boosts inflation by making imports more expensive.
Today the government is offering 5 billion rubles ($73 million) of floating-rate bonds due January 2020 as part of a 10 billion-ruble auction.
"If the rates stay where they are or even rise, the floater's coupon will absorb this increase while fixed-rate OFZs in those circumstances will stay at best unchanged, and at worst will fall," said Konstantin Artemov, a money manager at Raiffeisen Capital in Moscow. "I choose floaters, since risks of the rates not being cut are higher than the risks of rates being cut."
Before it's here, it's on the Bloomberg Terminal.
LEARN MORE