More Costs Less in Poland With Debt Surge Offset by Lower Yields
Poland's 37% jump in net borrowing won't cost a zloty more

Government expects to save 500 million zloty with cheaper debt
With Poland's election seven weeks away, one thing is certain: government borrowing is going up. Yet few analysts see debt as a cause for concern.
The reason is that while increased pensions and wages for state employees will contribute to a 37 percent surge in net new borrowing next year, the government expects to cut its overall debt servicing cost.
For such financial alchemy, Poland can thank the European Central Bank, whose bond-buying program has made zloty debt impervious to the ructions sweeping emerging markets as a result of China's slowdown and America's plan to lift interest rates. It's also a legacy of Poland's years of austerity and accelerating economic growth -- even with a planned 8.5 billion-zloty ($2.3 billion) increase to next year's budget-deficit limit, the gap will stay below the 3 percent of GDP target for euro-candidate nations.
"The costs of debt servicing may be similar or even lower," Ernest Pytlarczyk, the chief economist at mBank SA, the Warsaw-based unit of Commerzbank AG, said Tuesday. "We should expect official interest rates to be cut again and quantitative easing in Europe helps, so there is a positive story around Polish bonds, especially given the country's relatively low indebtedness."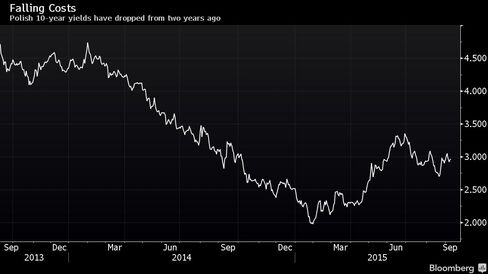 Deflation Rate
Economists say gross domestic product growth will quicken to 3.6 percent in 2016, the fastest pace among eastern European nations alongside Macedonia, according to data compiled by Bloomberg. The Polish Finance Ministry forecasts the economy will expand even faster, by 3.8 percent next year in its budget assumptions.
Still, with deflation lingering since June 2014, there's a greater likelihood of the central bank cutting rather than raising its record-low interest rates over the coming year, based on prices for forward-rate agreements 10 basis points below the three-month Warsaw interbank offered rate.
Amid the emerging-market turmoil of the past month, the government's domestic bonds have gained and the zloty has been among the five best-performing developing-nation currencies. While the yield on Polish 10-year notes has increased 46 basis points this year to 2.98 percent, the rate has dropped from more than 4 percent at the start of last year, data compiled by Bloomberg show.
Bumpy Growth
Not everyone agrees yields will fall further. Poland's challenge is the "ambitious" budget assumptions being made, according to Arkadiusz Bogusz, the head of investments at Opti TFI SA mutual fund in Warsaw.
Economic growth has been bumpy -- slowing in the second quarter to 3.3 percent from 3.6 percent in the first three months. The purchasing managers' index, a gauge of manufacturing, fell the most since January 2005 in August.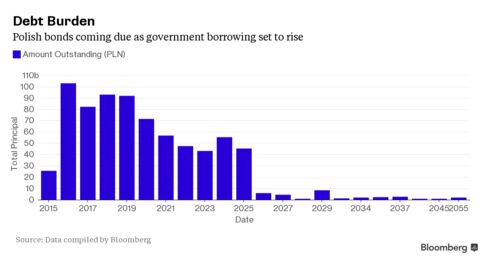 Then there's the political risk, as the opposition Law & Justice party leads polls ahead of the Oct. 25 general election. The party's lawmaker Henryk Kowalczyk said in interview with PAP newswire published this week that the 2016 budget plan needs revision as it gives "no scope for more social spending." Law & Justice plans to increase child benefits and broaden the tax-free allowance.
"Potentially worse revenue flows due to slower growth may lead to yields increasing," Bogusz at Opti said Tuesday. "It shouldn't threaten financing plans, but may force the government to sell shorter securities, even returning to Treasury bills, in order to keep its pledge to reduce debt- servicing costs."
Pre-Financing 2016
Economists at Bank Zachodni WBK SA in Warsaw estimate the public-finance deficit may reach 2.7 percent of GDP, higher than the 2.3 percent envisaged in the latest Polish convergence plan filed to the European Commission, though similar to this year's level.
The government expects to save 450 million zloty on debt-servicing costs compared with this year as it makes use of "cheap financing options on local and international markets," Finance Minister Mateusz Szczurek said on Monday. Poland plans borrowing to cover 103.2 billion zloty of bonds that mature next year along with a record 73.7 billion zloty for budget needs. Of that new funding, the Finance Ministry plans to raise 47.6 billion zloty from the local market and 26.1 billion zloty abroad, according to the draft budget.
Financing for next year may start this month as the government has almost covered its budget needs for 2015.
"The political risk shouldn't be crucial to demand for Polish bonds," Piotr Bielski, an economist at Zachodni, said by phone Tuesday. "The new cabinet will have limited scope for broadening the fiscal gap."
Before it's here, it's on the Bloomberg Terminal.
LEARN MORE