Israel Electric Needs Reform to Reduce Debt, Chairman Says
Israel needs to make progress on implementing the reform of Israel Electric Corp. to save the indebted state-owned utility from fiscal deterioration, Chairman Yiftah Ron Tal said.
"Reform in the electricity market is not a nice-to-have but a must-have," Ron Tal said in an interview at the company's Tel Aviv office on Sunday. "Without that, it will be difficult for Israel Electric to protect its current financial situation. This will affect the entire economy."
Government approval of the proposed reform would put the Haifa-based company on track to reduce its 48 billion shekel ($12 billion) debt burden by selling assets and listing 15 percent of its capital. The plan includes efficiency measures to turn the company into a more competitive player. Israel has been considering the overhaul and sale of the utility since 1996.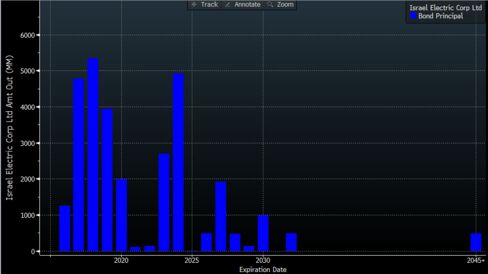 Israel Electric is struggling to boost revenues as the government cuts electricity tariffs -- most recently on Tuesday by 6.8 percent -- and steps up efforts to increase competition in the energy industry with the entry of private producers. The competition is leading to an annual drop in sales of between 5 percent to 6 percent, Ron Tal said. Israel Electric's revenue in the three months to the end of June decreased 9 percent from the year-earlier period, marking the third consecutive quarter of declines.
Develop Stations
"In order to continue to develop power stations we are forced to raise money," Ron Tal said. "The raising of money weakens the company's financial position and creates a huge debt pile."
For the first time in 13 years, the company in June sold 923 million shekels in public bonds on the Tel Aviv bourse to help meet financial targets. The yield on the company's 4.8 percent shekel-denominated notes maturing October 2023 dropped for the first time in four days, declining three basis points, to 2.4 percent at the close of trading in Tel Aviv.
"We view the asset sales and partial equity listing as a positive event risk, if they materialize," Alexandre Dray, a Tel Aviv-based credit analyst for Gimme Credit LLC, said by phone. "Israel Electric bonds offer a decent yield given the reduced operational risks as we do not expect any particular troubles arising from the supply of energy."
The start of production at the Tamar natural gas site offshore Israel in March 2013 has helped the company to cut electricity generation costs by billions of shekels and reduce debt by switching to cheaper natural gas production.
"There is a reform framework and the guidelines have already been agreed upon by the sides involved, so in a focused effort we can sign within a month on the reform," Ron Tal said. "My aim is to start 2016 with a signed reform or at least a signed reform framework."
Before it's here, it's on the Bloomberg Terminal.
LEARN MORE