In Bid for Pacific Gas Prize, Biggest Offer May Be Too Little
Woodside offers to buy rival Oil Search for $8.1 billion

PNG gas producer surges 17 percent after Woodside bid
Woodside Petroleum Ltd. is hankering for a stake in Papua New Guinea's natural gas export industry. The Australian energy producer may need to dig deeper into its pockets to fulfill those ambitions.
Woodside made an A$11.65 billion ($8.1 billion) offer for Oil Search Ltd., Exxon Mobil Corp.'s partner in a liquefied natural gas project in the Pacific country near Australia. The bid of one share for every four Oil Search shares disclosed Tuesday implied a 14 percent premium, which probably won't be enough to satisfy investors, according to Sanford C. Bernstein & Co. and UBS Group AG.
The offer would be the biggest energy takeover in the Asia Pacific region. Oil Search may demand a higher price with its LNG expansion plans seen as more competitive than projects elsewhere in the world.
"Oil Search has a strong position in PNG, and PNG offers more growth going forward on the LNG side than Australia," Chris Flynn, a partner at law firm Gilbert & Tobin in Sydney, said Tuesday in a phone interview.
The offer is probably too low even though it's 27 percent higher than Oil Search's stock price two weeks ago, Nik Burns, a Melbourne-based analyst at UBS, wrote Tuesday in a research note.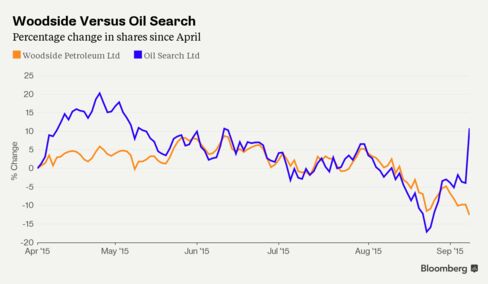 Speculation that Woodside would make an offer boosted shares in Oil Search 16 percent as of Monday from Aug. 24. They jumped 17 percent Tuesday after the announcement to A$7.90 in Sydney trading, the biggest gain since 2001.
"We think Oil Search likely holds out for a higher price, as the company is not in a hurry with a manageable balance sheet," Bernstein said in a research note Tuesday, valuing Oil Search at A$8.50 a share. The company was one of the few oil and gas firms to report a jump in profit in the first half, driven by its Papua New Guinea liquefied natural gas project.
The implied premium of 13.6 percent compares with the average 13.7 percent for three similar-sized global oil exploration and production acquisitions in the past year, according to Bloomberg data.
If successful, Woodside's offer for Oil Search, excluding debt, would be the biggest takeover of an energy company in Asia Pacific, surpassing BP Plc's $7.2 billion acquisition of stakes in Indian oil and gas blocks from Reliance Industries Ltd. in 2011, the data show. Including debt, it would be the second-biggest after the reorganization of South Korea's SK Group this year.
Higher Offer
"You would expect there is some capacity for Woodside to potentially lift their bid if they saw there was a chance of success," Burns of UBS said in a phone interview.
Still, Woodside may not be able to justify a higher offer, and the number of rival bidders may be limited, he said.
"I don't think there's a long list of companies with a desire and balance sheet capacity to come into PNG at this point and go up against Woodside," Burns said. "It would have to be a pretty big company."
Bidding War
Woodside's offer for Papua New Guinea's largest oil producer could turn into a bidding war with Total SA and Exxon, according to Bernstein. Shares of rival oil and gas producers in Australia, including Santos Ltd., climbed in Sydney on Tuesday. Santos holds a 13.5 percent stake in the PNG LNG project.
Royal Dutch Shell Plc's deal earlier this year to buy BG Group Plc and Woodside's preliminary bid for Oil Search are "two significant transactions in a market that is under a lot of pressure, and it wouldn't surprise me if it drove consolidation further," said Flynn of Gilbert & Tobin.
Critical to the bid will be support from the Papua New Guinea government, which owns about 10 percent of Oil Search and has the power to block the proposal if it decides it's not in the nation's interests, Flynn said. PNG's petroleum and energy ministry and the prime minister's office didn't immediately respond to an e-mail seeking comment.
International Petroleum Investment Co. of Abu Dhabi owns 12.9 percent of Oil Search, according to data compiled by Bloomberg. An external public relations agency working for IPIC didn't respond when asked for comment.
Before it's here, it's on the Bloomberg Terminal.
LEARN MORE