GE Wins EU-U.S. Approval for Alstom Deal With Asset-Sale Vow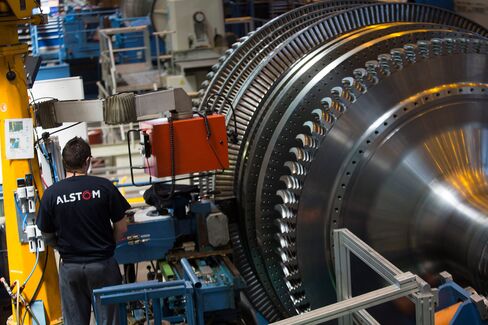 Regulators sign off after accord on gas-turbine divestitures

Deal is good for customers, GE and investors, Immelt says
General Electric Co. got the go-ahead from European and U.S. antitrust regulators to buy most of Alstom SA's energy business, boosting Chief Executive Officer Jeffrey Immelt's attempt to return GE to its industrial roots.
GE's pledge to sell gas-turbine assets to an Italian rival, Ansaldo Energia SpA, helped allay antitrust concerns over the 8.5 billion-euro ($9.5 billion) plan, the European Commission said in a statement on Tuesday. The U.S. Justice Department signaled its approval minutes later.
"We got a deal that's good for our customers and good for GE and good for our investors," Immelt said in a phone interview. The CEO conceded his company faces "a more challenging regulatory environment, not just in Europe, but in the U.S. and every other region that we compete in."
The EU's blessing removes a crucial hurdle for GE to close an acquisition central to Immelt's plan to reshape the company around its manufacturing divisions and pivot away from finance. In 2001, European regulators blocked the company's takeover of Honeywell International Inc., a failure that shadowed the months-long review of the Alstom deal.
GE agreed last year to buy Alstom's gas-turbine operations -- and create joint ventures in the steam turbine, renewable energy and electrical-transmission businesses -- in a 12.4 billion-euro deal. GE said the final purchase price, adjusting for remedies, joint ventures and changes in the deal structure, is expected to be about 8.5 billion euros.
GE still has years of work to integrate the large operation and achieve promised synergies of $3 billion in five years, said Deane Dray, an analyst with RBC Capital Markets LLC.
"Alstom does not fall off the radar screen but it will transform," Dray said. "Can they execute on all the synergies?"
Price Rises
The commission had argued the Alstom tie-up may have thwarted innovation and triggered price rises by leaving only Siemens AG as GE's main rival in Europe in the market for gas turbines used in gas-fired power plants.
The EU regulator said Fairfield, Connecticut-based GE's concessions address its concerns and warrant the conditional approval for the Alstom purchase.
The French company's shares increased 1.4 percent in Paris trading. GE advanced by as much as 3.6 percent in New York.
As part of GE's offer, Ansaldo will acquire Alstom's technology for large and very large gas turbines. Alstom will also cede two test facilities for these turbine models in Birr, Switzerland, the EU said.
"Ansaldo will have a true fighting chance" of competing in the European market, Margrethe Vestager, the EU's competition commissioner, told reporters in Strasbourg, France.
The Italian firm should gain a foothold in the maintenance business by taking over long-term contracts Alstom holds to service 34 previously-sold gas turbines, the commission said. Ansaldo will also acquire Alstom's Power Systems Manufacturing unit which can service gas turbines of different makes, the regulator said.
For Related News and Information:
GE Said to Offer Alstom Assets to Ansaldo for EU Deal Nod
Top Stories:TOP
Before it's here, it's on the Bloomberg Terminal.
LEARN MORE